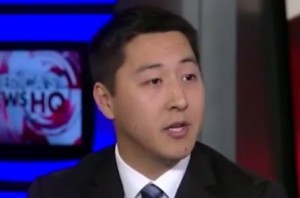 Kurt Bardella, who through his PR firm Endeavor Strategies operated as Breitbart's spokesman, resigned his position with the media company amid the ongoing brouhaha over reporter Michelle Fields allegation of assault against Donald Trump campaign manager Corey Lewandowski.
"I reached the point where I felt I couldn't give 100% to my client," Bardella told Mediaite. "And when that happens, I think I have a responsibility to tell them that." He added that it wasn't just the Lewandowski fracas that contributed to his decision to leave, but that the last 72 hours had "crystallized" his decision and highlighted just how little he enjoyed aspects of his job.
As pointman for Breitbart's public relations operations, Bardella was faced with something of perfect storm as the Trump-friendly website went to war with their candidate of choice. Along the way, Breitbart faced criticism for not defending Fields strongly enough and when two of their own employees appeared to side with Trump and against Fields.
The former Issa spokesman briefly became part of the story himself, when The Daily Beast reported that he had called Fields the night of the assault to berate her for her boyfriend Jamie Weinstein's supportive tweets. In an earlier statement to Mediaite, Bardella strongly denied those allegations: "I could give two shits about what Jaime Weinstein does or tweets or says."
His next move: the country music world. Bardella operates The Morning Hangover, a sort of Politico Playbook for country music fans and insiders. Although he's still based in Washington, he says he's made a series of successful in-roads in Nashville.
His final thoughts on the whole situation: "It's a manifestation of just how ugly this campaign has become… These things only seem to happy at Donald Trump events."
[Image via screengrab]
——
>>Follow Alex Griswold (@HashtagGriswold) on Twitter
Have a tip we should know? tips@mediaite.com