Bristol Palin And "The Situation" Would Like You To Know They Endorse Abstinence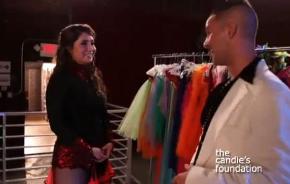 Bristol Palin and The Situation star in a hilarious new Funny Or Die video about sex, and how you shouldn't have it.
Wait, this is a real PSA? Oh – here's this extremely awkward video featuring these two "stars," telling you about abstinence.
The video is part of the Candie's Foundation's "Pause Before You Play" campaign, or PBYB according to Sitch. It begins with Situation hitting on Bristol, asking her if she'd like to have a situation. Keep in mind, the word "situation" literally jumps the shark somewhere in the middle of this PSA. "I hope you're as committed to safe sex as you are those abs," says Bristol, who had a baby when she was a teenager and is now an abstinence advocate, to Sitch, who rarely actually ends up having sex due to overcompensatory aggression.
"Just in case you do get into a situation, I want to make sure you are situated. Because if you do get into a situation, with your situation," Sitch points down below her waist (seriously), "you may end up with a situation."
"Trust me, I'm not getting myself into another situation," says Bristol. Meanwhile, Sitch likes abstinence too! "I totally respect abstinence," he says. "I mean, it actually has the word 'abs' in it!"
Then he whips out a few "magnums" and asks fellow Dancing With The Stars-er Bristol if she would like to have one. "It's fine, I actually avoid situations," says potential 2012 Presidential candidate Sarah Palin's daughter.
This is America. Check it out, via New York's Vulture:

—–
» Follow Steve Krakauer on Twitter
Have a tip we should know? tips@mediaite.com