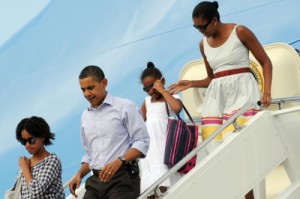 As the outrage against the TSA body scanners and pat downs reaches a boiling point and anyone who is anyone (as well as anyone) gives their opinion, the collective Internet hive mind known as Reddit has thrown in their two cents as well as a pretty clever gauntlet; if President Obama agrees with the TSA that this is necessary, he should send his wife and young daughters through the process.
The idea was first proposed by a user named "exula" who wrote a post on the site's Politics board entitled "Dear Mr. President: Would you send the First Lady and your two little girls through the TSA screening process?":
"The options are either the full body scan, or a extensive pat down, involving the patting of genitalia. Would you send your girls through that process?
If so, reassure the American people that a violation of their 4th amendment rights are needed and do it. Show them going through this process. If it really is what is needed to keep us safe from dangers that we can't even fathom, then show us the way."
An hour later, a user named "busytigger" proposed that the site's readers take the challenge over to Twitter where they would Tweet it at CNN's account (perhaps looking for media exposure as much as getting it to the president himself). Sure enough, a day later, CNN is still being besieged by the same message.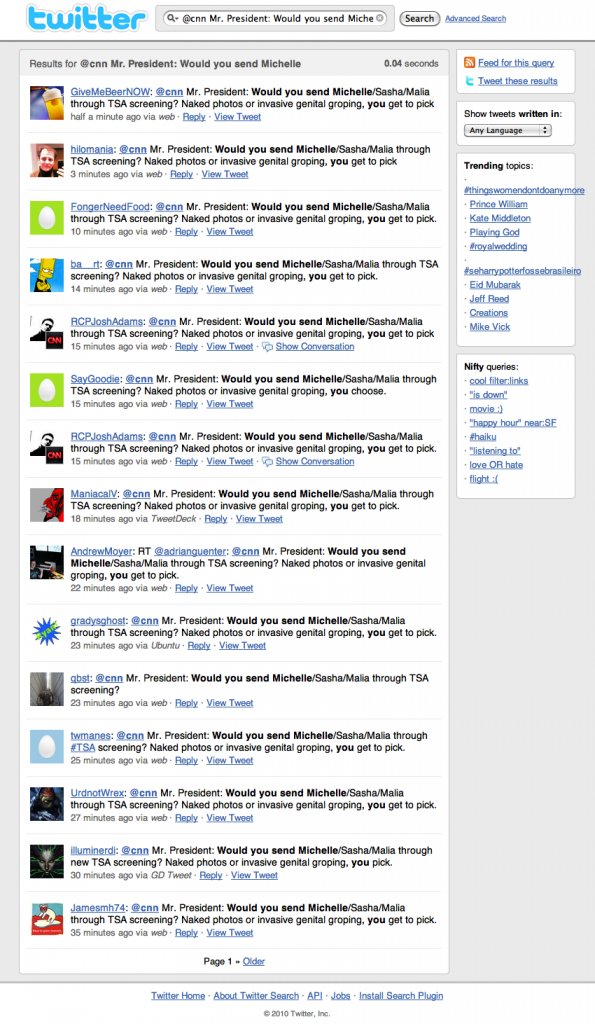 It's certainly not clear that we'll be seeing Michelle and the girls venturing into a body-scanner any time soon (can you imagine being some lowly airport security guard and having to give the first lady a "crotch pat down" while the president and secret service watch?) but the last time Reddit users organized like this, they got there way (although it's still unclear whether or not that was just a lucky coincidence). Either way, with all the media coverage of folks on and off the Internet up in arms over the new measures, the White House will need to make a comment one way or another. And soon.
Have a tip we should know? tips@mediaite.com