Bureau Chiefs of Major News Orgs Send Letter to State Dept About Tillerson Leaving Press Behind on Trip to Asia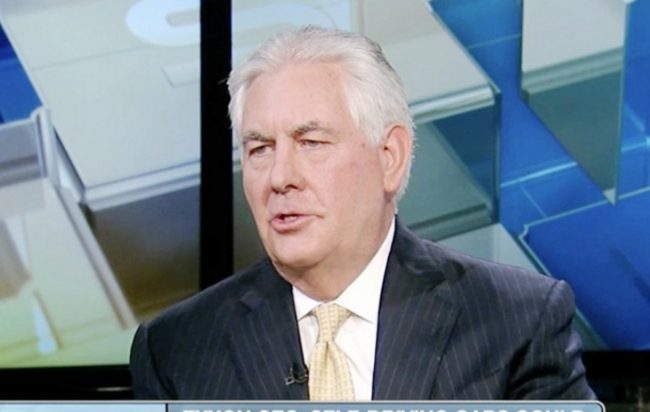 Yesterday, CNN's Jake Tapper sternly condemned reports that Secretary of State Rex Tillerson will be heading to Asia without the press. As we explained then, the trip is an important one given what's going on in North Korea right now.
Tapper wasn't alone in being shocked and agitated, though. According to Poynter, which can also be very stern, on Tuesday, the D.C. bureau chiefs of news organizations like Fox News, CNN, NPR, the BBC, the New York Times, the Washington Post, and the Wall Street Journal sent a letter to the State Department to outline their concerns and request a meeting to discuss press access to Tillerson on trips abroad.
The letter said this:
We were deeply concerned to hear that Secretary Tillerson plans to travel to Beijing, Seoul and Tokyo to hold key meetings about some of the most important foreign policy issues for the United States without any traveling press. Not only does this situation leave the public narrative of the meetings up to the Chinese foreign ministry as well as Korea's and Japan's, but it gives the American people no window whatsoever into the views and actions of the nation's leaders.
The letter also responded to an offer from the State Department to "help" any reporters who wanted to travel there on their own. The news organizations called it "wholly unrealistic" given commercial flight schedules, visa issues, and the fact that the reporters still might not get let in once they arrive.
Check out the full letter:
Dear Mr. Hammond and Ms. Peterlin,

We are the Washington bureau chiefs and editors of major print, wire, television and radio news organizations. We are writing to request a meeting with both of you as soon as possible to discuss press access to Secretary of State Rex Tillerson and coverage of American foreign policy going forward.

We were deeply concerned to hear that Secretary Tillerson plans to travel to Beijing, Seoul and Tokyo to hold key meetings about some of the most important foreign policy issues for the United States without any traveling press. Not only does this situation leave the public narrative of the meetings up to the Chinese foreign ministry as well as Korea's and Japan's, but it gives the American people no window whatsoever into the views and actions of the nation's leaders. And the offer to help those reporters who want to travel unilaterally is wholly unrealistic, given the commercial flight schedules, visa issues and no guarantee of access once they are there.

But the issues go beyond just the March 14-19 trip and affect the day-to-day coverage of the nation's top diplomat and U.S. relations with the rest of the world.

Please let us know when a small group of us could come by to see if we can work out an arrangement that suits all of us.

Thank you,

Wendy Benjaminson
Acting Washington Bureau Chief
The Associated Press

Bryan Boughton
Fox News Channel
Washington Bureau Chief

Elisabeth Bumiller
Washington Bureau Chief
New York Times

Edith Chapin
Executive Editor
NPR

Paul Danahar
BBC Americas Bureaux Chief

Sam Feist
CNN Washington Bureau Chief

Peter Finn
National Security Editor
The Washington Post

Keith Johnson
Acting Managing Editor, News
Foreign Policy

Weston Kosova
Washington Bureau Chief
Bloomberg

David Lauter
Washington Bureau Chief
Los Angeles Times/Chicago Tribune

Yolanda Lopez
Central News Director
VOA

David Millikin
North America bureau chief
AFP
[image via screengrab]
——
Have a tip we should know? tips@mediaite.com