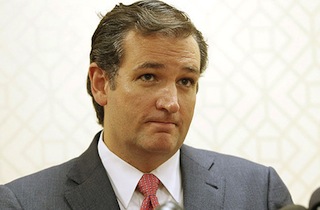 The Houston Chronicle, which endorsed Houstonian Ted Cruz (R-TX) in the general election for Senate last fall, now regrets its endorsement, according to an editorial published this morning.
The Chronicle's endorsement had been qualified to begin with, as the paper had preferred Texas Lieutenant Governor David Dewhurst, whom Cruz upset in the Republican primary. But the editors now long for the days of Cruz's predecessor, Kay Bailey Hutchison, whom the paper said worked with her colleagues toward solutions, rather than against both.
We're not sure how much difference one person could make in the toxic, chaotic, hyperpartisan atmosphere in Washington, but if we could choose just one it would be Hutchison, whose years of service in the Senate were marked by two things sorely lacking in her successor, Ted Cruz.

For one thing, Hutchison had an unswerving commitment to the highest and best interests of Texas at all times.

…And dare we say it? We miss her extraordinary understanding of the importance of reaching across the aisle when necessary. Neither sitting Texas senator has displayed that useful skill, and both the state and the Congress are the poorer for it.

…When we endorsed Ted Cruz in last November's general election, we did so with many reservations and at least one specific recommendation – that he follow Hutchison's example in his conduct as a senator.

Obviously, he has not done so. Cruz has been part of the problem in specific situations where Hutchison would have been part of the solution.
The Chronicle is no longer very fond of Dewhurst, even, who recently called for President Barack Obama's impeachment over Benghazi and other issues.
"Dewhurst, long considered a moderate in the Texas GOP, clearly was rattled by his unexpected loss to Cruz for the Senate seat," the paper wrote. "Faced with the impossible task of outflanking three strong conservative challengers, the traditional moderate Dewhurst does not seem like a man comfortable in his own skin. It's painful to watch."
[h/t TP]
[Image via NRO]
——
>> Follow Evan McMurry (@evanmcmurry) on Twitter
Have a tip we should know? tips@mediaite.com