Buzzfeed Goes All Zapruder on Alex Wagner's Possible Engagement to White House Chef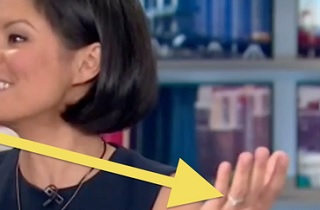 After "discovering" Twitter messages between Newark Mayor Cory Booker (D-NJ) and stripper Lynsie Lee that had actually been public for six months, Buzzfeed continued its roll of crack sleuthing by catching MSNBC host Alex Wagner in the act of possibly being engaged to White House Chef Sam Kass. While wagner has yet to confirm the happy news, it looks like Buzzfeed has her dead to rights:
It appears that MSNBC's Alex Wagner, who had been quietly dating White House chef Sam Kass for about a year until the Washington Post blew their cover in August, is quietly announcing to her audience that she's getting hitched. Below are a few screencaps from this weeks' Now broadcasts that feature Wagner's fresh bling
To the degree that celebrity doings like these are news, it's actually not a bad catch, but instead of, say, linking to a clip or two of Now with Alex Wagner that contain shots of the telltale rock, Buzzfeed lays out the evidence Zapruder-style, marking up several screenshots of Wagner in a manner eerily similar to those crowd-sourcing witch hunts that followed the Boston Marathon bombing, culminating in a comically-sinister closeup:
What's also (mildly) interesting is that the screenshots are fastidiously dated, and go all the way back to September 23, yet the report notes that "Wagner didn't immediately respond to a request for comment." Why wouldn't they have reached out when they first spotted the incriminating jewelry? Maybe they figured that the likelihood was low that Alex Wagner had always dreamed of announcing her engagement via the internet's premier source of cat GIFs and totally contextual nude photos.
The piece did jar something loose, however, as Buzzfeed "confirmed" the news via a single anonymous source "familiar with the engagement," an attribution hat could conceivably include any of Now's recent viewers. In any case, congratulations, Alex. You made Buzzfeed!
[screengrabs via Buzzfeed]
Have a tip we should know? tips@mediaite.com