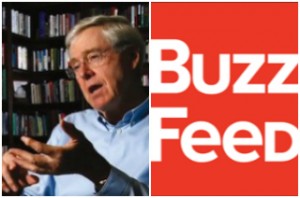 Buzzfeed and the Charles Koch Institute are co-sponsoring a beer-and-debate salon on immigration in Washington, D.C. this week. The strange-bedfellows angle has already raised some eyebrows, but Breitbart.com's eyebrows go all the way over its skull with "KOCH SPONSORS PRO-AMNESTY BUZZFEED EVENT."
Breitbart notes that Buzzfeed Editor-in-Chief Ben Smith and Charles Koch are across quite an ideological gulf from each other, and that the panel is actually quite diverse—unless, of course, you follow every panel member to their sixty-sixth degree of association, and define any attempt at reform as amnesty, at which point the panel will be distributing Green Card coasters and giving illegal immigrants AirBnB accounts.
"Expect plenty of nudging at the Koch-sponsored BuzzFeed Brews event," Breitbart.com predicts, "a night of exhibition insider baseball where BuzzFeed Ben Smith underhands softballs to his pro-immigration reform panelists, who will do their best to drill them right at The Heritage Foundation."
Bret Jacobson of Red Edge, a digital advocacy firm whose client includes the Heritage Foundation, chews this up and spits it out: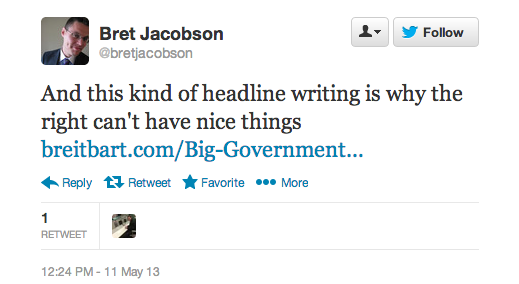 It should be noted that the Heritage Foundation would have an easier time at events like this had they not poisoned their own well with a thoroughly discredited study on the costs of immigration reform, one that's drawn hackles primarily from conservatives, and caused the resignation/firing of one of its coauthors, who was revealed to have quite the opinion on immigrants' IQs. If you classify everything to the left of "immigrants are inherently dumb" as amnesty, the world will indeed look like a conspiracy in favor of it.
– –
>> Follow Evan McMurry (@evanmcmurry) on Twitter
Have a tip we should know? tips@mediaite.com