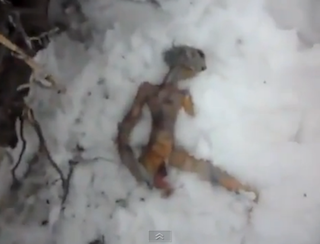 Desperate to remain relevant, Charlie Sheen tried his hand at pulling a Trump: questioning the validity of Obama's birth certificate. If that doesn't work, he could try trading antisemitic slurs with Mel Gibson. I bet they get along great.
A really excellently shot video of what appeared to be an injured extra terrestrial in Russia went viral this week, accruing over one million views per day, for the last 6 days. In fact, the video as so well-composed that paranormal investigator Benjamin Radford is hedging his bets on it being a hoax.
The must-see cute animal video of the week is Cookie, the ticklish baby penguin at the Cincinnati Zoo. Uploaded over a year ago, the video laid dormant until being discovered by Reddit on the 15th, accruing 2 million views in the past seven days.
This resume from a slacker with a sense of humor turned up at a restaurant in the UK recently, before becoming one of the week's most shared images. Although some speculate Eric is avoiding employment to stay on wellfare, others commend the aromatic Mario Kart expert for his unrelenting honesty and entertainment value.
And lastly, BuzzFeed's own Gavon Laessig curated a list of 45 McDonald's Items Not Available In the US, making many of us wish we could get a McKroket and McBeer for lunch.
Have a tip we should know? [email protected]