Cable and Broadcast Networks Score Huge With Record Election Night Audience of 72 Million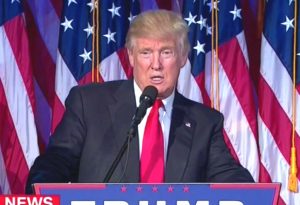 President Elect Donald Trump declared victory just before 3:00 a.m. ET on Wednesday. And even at that very late hour, tens of millions of Americans were watching, just as they had been all night.
CNN, Fox News, and MSNBC combined to pull in a staggering collective audience of more than 19 million people during the 2:00-3:00 a.m. hour when the election was called for Trump. In all, more than 72 million people watched election coverage across all networks, besting the mark of 71.5 million set in 2008 to set a new all-time election night record, according to Variety.
NBC led the way among the broadcast networks with a total viewership of 11.97 million. ABC came in second with 9.68 million. While CBS drew 8.8 million to their coverage
As for the cablers, Fox News carried the night in the 7:00 p.m.-3:00 a.m. ET window with an average audience of just under 12.2 million. CNN trailed closely behind with 11.17 million (although they won the key 25-54 demo by approximately 850,000 viewers, and also carried primetime). MSNBC came in third with approximately 5.2 million viewers.
Donald Trump's candidacy proved to be a ratings boon for every news outlet over the past year and a half. Primary election nights were treated like events. Primary debate audiences were massive. General election debate audiences approached Super Bowl territory.
Now, the networks prepare to cover a Trump Presidency, which figures to be continued ratings gold. As CBS executive chairman Les Moonves said about Donald Trump's candidacy in February:
"It may not be good for America, but it's damn good for CBS."
[image via screengrab]
–
Follow Joe DePaolo (@joe_depaolo) on Twitter
Have a tip we should know? tips@mediaite.com
Joe DePaolo - Senior Editor