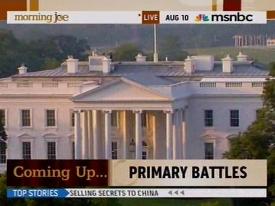 The economic crisis was the top story in the media last week – across all platforms.
But in looking at the breakdown among specific media sectors, we see a clear divide in focus between cable news and network news when it comes to oil disaster coverage.
According to the new Project for the Excellence In Journalism news coverage report, looking at last week's TV, radio, newspaper and online coverage, we see a divide in oil disaster coverage and more:
Last week, the Gulf spill led two media sectors—network TV and online at 15% and 16% respectively. In newspapers the story ranked at No. 3 with 11% of front-page coverage, and on the radio it was No. 2 at 12%. However, on cable news, a sector that had in the past dedicated large amounts of airtime to the story, it was only the No. 7 story, at 5%.
5% of cable news coverage is the lowest amount since the first weeks of the disaster more than 100 days ago. So what was the big story on cable news last week?
The mid-term elections featured prominently in the media last week (8% of the newshole), particularly on the politically oriented cable channels, where it was the No. 1 story at 15% of the airtime.

Almost half of the mid-term coverage focused on the Democratic Party, rendering an image of bickering, scandal and uncertain prospects for November. Representatives Charlie Rangel and Maxine Waters drew media attention for ethics probes against them. A feud between Speaker of the House Nancy Pelosi and White House spokesman Robert Gibbs over Gibbs' statement that the House was vulnerable to a GOP takeover also made news. President Barack Obama's campaigning on behalf of Democratic candidates was a prominent theme as well.
We're back to politics! Well, really, it never went away. And that's not likely to change this week either, with several high profile midterm primaries tonight (Connecticut, Colorado and more). The cable news networks did spend a significant portion of their coverage for nearly two months on the BP oil disaster, but as news shifts we'll see the broadcast networks take the lead on the story once again. Political issues will remain at the forefront on cable – and beyond just who is winning and losing in November (the California same-sex marriage ruling accounted for 10% of cable news coverage, compared to just 5% overall).
For the full breakdown, check out the report here.
—–
» Follow Steve Krakauer on Twitter
Have a tip we should know? tips@mediaite.com