Campaign Ad Spending Is Way Down and Local Broadcasters Are Getting Burned As a Result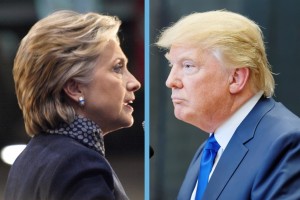 It wasn't until last week that Republican candidate Donald Trump rolled out his first general election ad targeting his Democratic rival Hillary Clinton. Rather, the real estate titan — whose long-offered claims of self-funding his own campaign are dubious at best — has considered other modes of spreading his message, most notably his social media feed which boasts millions of followers.
And while Clinton herself first rolled out swing state ad buys in mid-June, her Democratic party battle with Vermont Senator Bernie Sanders lingered longer than most people expected.
All this means that in 2016, general election advertising spending is down. Way down. Like, 60% down since the 2012 campaign, when Mitt Romney launched a national effort to unseat President Barack Obama's reelection campaign. According to Ken Goldstein of Bloomberg Politics, $146 million has been spent by sponsors on the race since late April, compared to $373 million over the same time period for 2012.
Goldstein also points to the lessened impact of Republican super PACs this year as another contributing factor to the dip in overall spending.
Despite the steep drop in numbers, many believe that the money may be made up in these last few months before the election in down-ballot races, especially for a fractured GOP that may look to cut its losses and focus on battles where it can be competitive with ad spending. "Certainly it's not what was expected, but you're going to see the money coming in. It'll just come in later," said Television Bureau of Advertising Steve Lanzano. AdAge points out that groups like Sinclair and Tribune Media are the hardest hit as a result of this year's off-spending, and the numbers this year indicate troubled times for local TV broadcasters who were expecting large financial opportunities airing the ads in their markets.
However, there may be some ground to be made up in states that historically haven't been competitive for ad costs. As Clinton makes a play in historically red states like Arizona and Georgia, money spent on advertisements there — both from a Clinton camp looking to encroach on GOP territory as well as from a Trump campaign on the defensive — may rise significantly.
—
J.D. Durkin (@jiveDurkey) is an editorial producer and columnist at Mediaite.
[images via Flickr]
Have a tip we should know? tips@mediaite.com