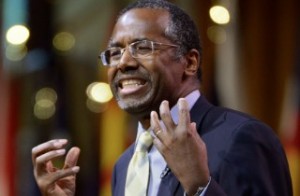 Even if Ben Carson says he isn't getting out of the 2016 race any time soon, new reports about his staff suggest that his campaign isn't exactly in the best shape ever.
A report from Washington Post indicates that amid a drought in campaign funds, Carson is downsizing his campaign with at least 50 cuts in staff positions. Field operatives and Northern Virginia staffers will reportedly cut his campaign in half, with Carson's traveling entourage seeing its own reductions as the rest face pay-cuts.
Campaign officials reportedly clarified the move in an internal memo where they acknowledged that Carson only took 9.3% of the Iowa Caucus vote to place in fourth, and that sweeping changes would be necessary. Carson adviser Armstong Williams said this plan has been in discussion for weeks and was only postponed for the sake of seeing how the caucus would play out.
"Dr. Carson is going to get his campaign lean — really lean," Williams said. "One issue for a while has been too much infrastructure, and he has decided to fully address it so that he can sustain his campaign until the convention."
This development marks the latest in troubled times for Carson's campaign, seeing as his campaign saw a major shake-up about a month ago when two of his top aides left his side.
Carson has been going on the offense for the past few days with his accusations that Ted Cruz's staff put out erroneous messages in order to convince caucus-goers Carson was dropping out and steal his voters. Cruz has offered his apologies for the matter, but Carson's camp continues to blast his integrity and liken him to corrupt insider politicians.
[Image via screengrab]
— —
>> Follow Ken Meyer (@KenMeyer91) on Twitter
Have a tip we should know? [email protected]