Carson: Trump Fans Don't Care About Rational Arguments, So Stop Trying to Convince Them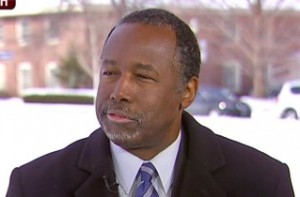 Trump supporter Dr. Ben Carson penned an op-ed for Independent Journal Review arguing that people have already made up their minds about Donald Trump, so making appeals to "nuance" or "reason and decency" are pointless.
The op-ed, entitled "Democrats Are Wasting Their Time Trying To Convince Voters Trump Is Bad For Them," argues that Democrats and Republicans who have yet to "fall into line" behind Trump are "fooling themselves" if they think anyone's mind will be changed by reporting on the GOP frontrunner's proposals, record, temperament, and qualifications (what Carson calls Trump's "imperfections").
Trump's appeal lies in his ability to speak to voters' passions while not taxing their capacity for logic or heeding "rational constraints," Carson argues. He writes:
The American people desperately want a win – and they are not overly concerned about how they get it. Trump has been the best so far at expressing that desire, as evidenced on his positions on everything from foreign policy, to torture, to social security. He does not force his voters to make a choice based on rational constraints. He promises to deliver everything, and why, well – because he said so is why. And that boldness, even in the face of seemingly immutable realities such as the national debt, America's shrinking military footprint, and even the laws themselves – seems to offer fresh hope for people who feel hemmed in and constrained by the status quo.
This election is about winning over the hearts and souls of the American people," Carson writes, "not their minds."
He observes that "nuance, intellectual snobbery, equivocation and pleading to reason and decency will have absolutely no effect on the electorate this time around."
[h/t InJo]
Have a tip we should know? [email protected]