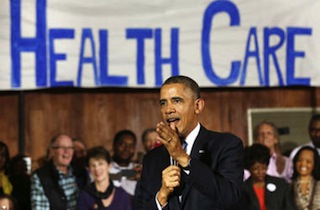 The Congressional Budget Office's new Budget and Economic Outlook report projects that the Affordable Care Act will reduce fulltime employment by about 2.5 million jobs by 2024, a number largely comprising low-wage workers reducing their hours or exiting the labor market. The reductions are expected to begin in 2016, after the all of the laws' provisions have been implemented.

Most of the reduction in employment will be due to workers opting out of fulltime employment, rather than a decline in employers' demand:
CBO estimates that the ACA will reduce the total number of hours worked, on net, by about 1.5 percent to 2.0 percent during the period from 2017 to 2024, almost entirely because workers will choose to supply less labor—given the new taxes and other incentives they will face and the financial benefits some will receive. Because the largest declines in labor supply will probably occur among lower-wage workers, the reduction in aggregate compensation (wages, salaries, and fringe benefits) and the impact on the overall economy will be proportionally smaller than the reduction in hours worked.

[…] The estimated reduction stems almost entirely from a net decline in the amount of labor that workers choose to supply, rather than from a net drop in businesses' demand for labor.
The CBO also projected that an aggregate of the ACA's policies "will reduce federal budget deficits by $206 billion over the 2015–2024 period," and estimated that insurance premiums in 2014 would be lowered by about 15% from the agency's initial projections.
The report went on to lower the projected signups for 2014 to 6 million, down from 7 million, due to the botched rollout. However, the CBO projected that the enrollments would "rise sharply in the next few years—reaching 22 million by 2016—as people become more familiar with the new insurance options and subsidies."
In other news, the CBO projected that the budget deficit is expected to shrink to $500 billion, bringing it to 3% of the GDP, roughly average with the past forty years. However, a combination of an aging work force and slower economic growth is expected to push deficits back up after 2015.
[h/t Washington Post / NBC News]
[Image via Larry Downing/Reuters]
——
>> Follow Evan McMurry (@evanmcmurry) on Twitter
Have a tip we should know? tips@mediaite.com