CBS News Poll: 'An Extremely Positive Response' To State Of The Union Speech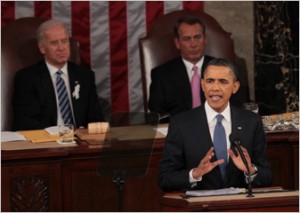 Last night President Barack Obama delivered his third State of the Union speech. While pundits of many stripes found the speech to be somewhat "flat and uninspired," an instant poll conducted by CBS News indicates that the American public had an "extremely positive response" and that many optimistically saw the speech as evidence that both Democrats and Republicans can work together.
In terms of policy, the President appeared to channel the triangulation rhetoric of a second term Bill Clinton, at times sounding both budget conscious and pro-business, while throwing out lots of red meat to the GOP (like tort reform and a spending freeze.) And yes, Obama still hit many of the same notes that made him so popular with those on the left. In short, it was very much a centrist effort (or perhaps an effort for centrism.)
But a mixed seating arrangement designed to show civility in a post-Tucson political era, appeared to take much of partisan air out of the room, in ways that both made the oratory seem more civil, and yes, lacking in enthusiasm on both sides of the proverbial aisle. Which was the note that many pundits picked up on, focusing on a "subdued" meme, which seemed to some to be wrong.
Some suggested that the mixed chamber helped the President, making the reactions (and his speech) seem less partisan, and more earnest. Which was the sentiment felt by the vast majority of the public watching at home, evidenced by the following CBS News poll. Writing for CBS News' Political Hotsheet, Lucy Madison reports:
An overwhelming majority of Americans approved of the overall message in President Obama's State of the Union speech on Tuesday night, according to a CBS News poll of speech watchers.

According to the poll, which was conducted online by Knowledge Networks immediately after the president's address, 91 percent of those who watched the speech approved of the proposals Mr. Obama put forth during his remarks. Only nine percent disapproved.

Last year, 83 percent of viewers approved of Mr. Obama's State of the Union remarks.

This year, 82 percent of those who watched the speech said they approve of the president's plans for the economy, up from 53 percent who approved before the speech. Eighty percent said they approved of Mr. Obama's plans for the deficit — in contrast to 45 percent before the speech. Eighty-three percent approved of Mr. Obama's proposals regarding Afghanistan, which received only a 57 percent approval rating beforehand.
Over the course of the next day or two, the speech will be deconstructed and specific policy platforms will be interpreted and vetted in every conceivable way. The Daily Beast's Howard Kurtz titled his post-speech reaction, a "grown-up speech to please folks at homes, not pundits. And evidenced by the poll results put forth by CBS News, he appears to be right.


Photo credit Doug Mills, NY Times
Have a tip we should know? tips@mediaite.com