Gay Conservative Hits Critics After Tucker Interview: 'They Don't Like it When We Step Off the Plantation'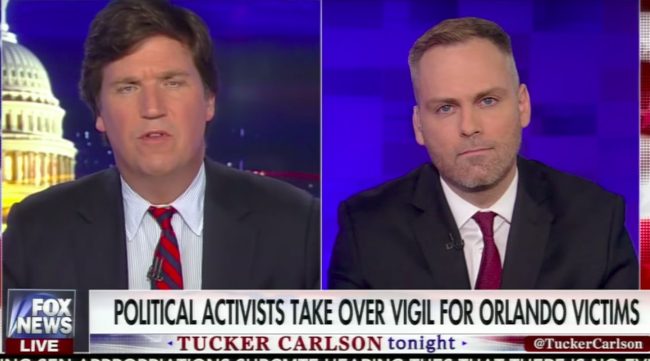 Chadwick Moore is hitting back at critics after a controversial appearance on Tucker Carlson Tonight on Tuesday. The gay Brooklyn-based journalist came in for serious heat after saying that most gay people only "care about pop music and going to the beach."
Media Matters swiftly singled out the exchange on their website, and LGBT blogs lit up with rage as the moment went viral.
In an exclusive statement to Mediaite, Moore refused to walk back a thing.
"I don't think there's anything that needs clarifying," he said.  "It's obvious the intent of what I was saying. And it was funny."
Moore, who appeared on the show to discuss  how the LGBT community was remembering the PULSE nightclub massacre, decried how a local rally outside New York City's iconic Stonewall Bar became focused on guns and made no mention of the shooters radical Islamic beliefs or pledge of loyalty to ISIS.
"It is truly wonderful this comment I made on Tucker Carlson is drawing attention to the issue of radical Islam in America," he said, adding that the event organization, Gays Against Guns, was "heartless and ideological."
As an Editor of Out Magazine, Moore was once a charter member of New York City's gay media ecosystem. His career there, however, came to a crashing halt after Moore penned a lengthy profile of former Breitbart Tech Editor Milo Yiannopoulos. Critics across LGBT media condemned the story as a "puff piece." Moore doubled down and reached mainstream notoriety with a viral New York Post Op-Ed in which bemoaned liberal intolerance and came out as a Conservative.
The old wounds appear as raw as ever.
"This is the Left's usual hive mind tactic to mobilize and destroy voices they don't like. I'm not impressed. It doesn't work on me," said Moore. "They especially hate me because I used to be one of them. They don't like it when we step off the plantation."
[Image via screengrab] 
Have a tip we should know? tips@mediaite.com