Chance The Rapper Bought Out an Entire Theater so Fans Could See Get Out For Free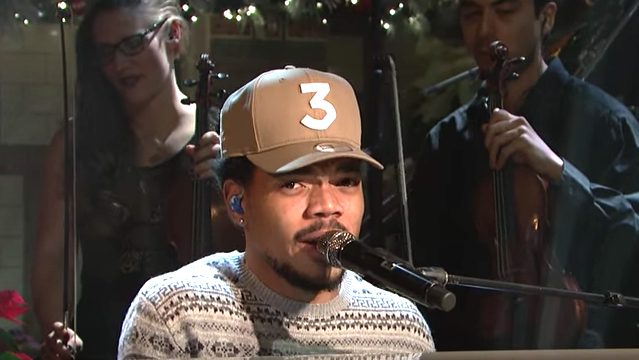 Chance The Rapper went to see Get Out, Jordan Peele's new comedy horror movie recently, and he really liked it. So, he tweeted about it:
DID I NOT TELL YALL #GETOUT WAS INCREDIBLE!! BEST FILM ACROSS ANY GENRE IN AWHILE GO SEE IT TODAY! Cc: @LilRel4 @JordanPeele

— Lil Chano From 79th (@chancetherapper) February 26, 2017
Almost immediately after he sent the tweet, he decided to do people one better than letting them know about it by buying out an entire theater on Chicago's South Side so that fans could go and see it for free. All they had to do was bring ID.
I bought all the tickets to #GetOut at Chatham Theatre on 87th Just pull up with ID and enjoy the movie.

— Lil Chano From 79th (@chancetherapper) February 26, 2017
All day guys, come thru! Bring whoever, it's free I just want you to see it on 87th. There's a few more showings today! #GetOut https://t.co/On2NxUopuy

— Lil Chano From 79th (@chancetherapper) February 26, 2017
It's already bussin, I just left and might have to come back for a later showing!! #getout https://t.co/tlWWspgMH5

— Lil Chano From 79th (@chancetherapper) February 26, 2017
Fans were pretty excited:
@chancetherapper thanks bro i appreciate it dearly ?!!!! pic.twitter.com/JvatPxSJDL

— Ayyyeeee!!!!! (@YOOOO_Kyle) February 26, 2017
@chancetherapper understand it's not that fact im happy about a free 10$ ticket it's about him giving back to the community i live in

— Ayyyeeee!!!!! (@YOOOO_Kyle) February 27, 2017
It's important that everyone makes time to see the movie #GetOut
f. @JordanPeele @LilRel4
Thanks big bro @chancetherapper ?? pic.twitter.com/FNoQWgmFl0

— FRENDS (@YourFrends) February 27, 2017
@chancetherapper ?? pic.twitter.com/wbeEmWrqBv

— GLO$$ TAE (@TAEHUNNA) February 26, 2017
[featured image via screen grab]
Have a tip we should know? tips@mediaite.com