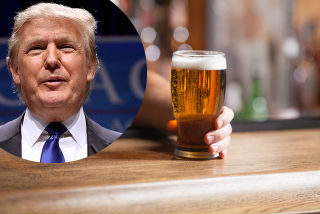 There's a reason that, whenever one has had a long night of inebriated partying, their first attempt to achieve sobriety the morning after is called the "hair of the dog." Because it sounds far less disgusting than the "hair of the Donald."
Too bad Donald Trump will no longer be able to participate in what's probably his morning-after trademark at the Trump Tower in Chicago. That's because 5 Rabbit Cerveceria, the Bedford Park-based brewery that has exclusively brewed the house beer for the building's restaurant, Rebar, has cut ties with the 2016 GOP presidential candidate following his remarks on Mexico.
At this point, we might as well assume every business that's ever had the remotest connection with Trump is distancing itself from the ex-Apprentice star. Hell, even mattress maker and seller Serta pulled out of its business dealings with Trump.
But beer? That's big, especially when you consider the fact that 5 Rabbit was started by Mexican and Costa Rican immigrants as the first Latin-themed craft brewery in America. A U.S. business founded and operated by immigrants. (Heads are exploding right now.)
The business currently has about 50 kegs of the golden ale it had been brewing for Trump's facility on hand. The brewer will distribute those to more than 30 Chicago bars without a formal name, but the beer is informally being called "(Expletive) tu Pelo," ("Tu Pelo" means "your hair" in Spanish. You can probably make the connection.)
Yup. What's left of Rebar's house beer is now being given away to whatever Chicago bars want it, and it's no longer called the "Rebar house beer." Instead, everyone's affectionately referring to it as "f*ck your hair." Dios bendiga a América.
[h/t Fortune]
[Image via Shutterstock.com]
— —
>> Follow Andrew Husband (@AndrewHusband) on Twitter
Have a tip we should know? [email protected]