Inspired By Bill Gates, Saudi Prince Will Donate $32 Billion Fortune to Charity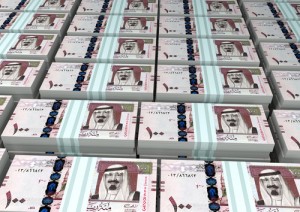 We haven't heard much from either Bill or Hillary Clinton regarding the Clinton Foundation, which was repeatedly eviscerated in the media for taking money from spurious sources. Still, while Bill maintains that the group's good works were ignored, the bad press hasn't necessarily ruined the image of large charitable foundations entirely.
The Bill and Melinda Gates Foundation regularly succeeds in making charitable giving look good, which is partially why Saudi Arabian Prince Alwaleed bin Talal announced that he will donate his entire personal fortune, $32 billion to charity.
Prince Alwaleed, who sits snugly at spot #32 on Forbes' world's richest list, says that he was inspired by the example set by Gates and the Gates Foundation. In response, the Microsoft co-founder called the prince's announcement an "inspiration to all of us working in philanthropy around the world."
So where is this insanely large amount of money going, and what's it going to be used for? Maybe helping the previously-embattled Clinton Foundation? Secretly funding ISIS' fight against Western influence?
Though some of you have probably convinced yourselves of one or both of these already, Prince Alwaleed claims the money will go towards his own charitable organization, Alwaleed Philanthropies. A newly appointed board of trustees will oversee the prince's donation and decide what to do with it, but according to the official press release:
This $32 billion philanthropic pledge will help build bridges to foster cultural understanding, develop communities, empower women, enable youth, provide vital disaster relief and create a more tolerant and accepting world.
Whatever. Until we know for certain where the money is going, and whether or not its destinations are truly nefarious, I'm willing to grant Prince Alwaleed the benefit of believing in his humanity. Besides, that's a whopping $32 billion. There's no louder version of "SHUT UP AND TAKE MY MONEY" than this. Well, except for semi-annual lines that gather outside of Apple stores after a new product launch.
[h/t BBC]
[Image via Shutterstock.com]
— —
>> Follow Andrew Husband (@AndrewHusband) on Twitter
Have a tip we should know? tips@mediaite.com