Chris Christie Fires Back At Snooki: 'She Lives In New York, She Can't Vote For Me'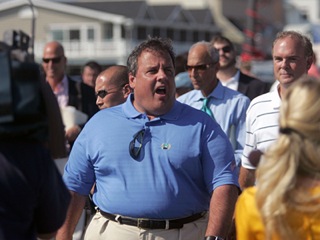 There are some topics around here at Mediaite, like Kim Kardashian and Snooki, that only end up here tangentially, much to the chagrin of those of us that would rather talk about more dignified things like Mitt Romney doing laundry and Sarah Palin's Facebook doodles. But outside of his feuds with the diminutive Jersey Shore star, Gov. Chris Christie is a beloved and respected political entity who may be our next-next president. If we report it every time Christie entertainingly yells insults at random people, surely a scrape with Snooki merits attention.
RELATED: Breaking: Snooki Says She Won't Be Voting For Chris Christie For President
The whole thing started with Snooki tweeting that she "will not be voting" for Christie after the governor repeated insulted the show and denied it a tax break. Christie, attending a dinner for the biotechnology industry on Thursday, had to answer a question on whether he felt that losing Snooki's vote was worrisome for him. The governor reportedly replied: "She lives in New York. She can't vote for me."
The governor is correct about that, of course, since Snooki is a resident of Poughkeepsie, New York. He did apologize "if Polizzi's feeelings were hurt," but continued to argue that he was in an uphill battle to rehabilitate the state's reputation:
"For far too long over the last decade, New Jersey was more of a punch-line on the late-night talk shows and other places, right?" he said. "You know, 'The Sopranos,' 'Real Housewives of New Jersey'. God forbid, 'Jersey Shore.'" […]

Christie said the wider point is that New Jersey has turned a corner. Instead of being a late-night punch-line, he said the state is now more commonly talked about on Sunday morning talk shows and evening news programs. "Something's happening here and America can see it and feel it and notice it," he said.
It is interesting, to say the least, that Christie bothers to talk about and indulge people like Snooki– goodness knows the national Republican Party would like to get that kind of attention from one of the nation's most popular governors sometime. And it reinforces the image of Christie as "culture warrior," but the kind Democrats can get behind, too: the kind that berates bigots when they challenge his diverse judicial appointments; the kind who trusts his constituents enough to believe they are ready to defend the civil right of same-sex unions. And just as he promotes the image of a leader willing to get down in the gutter and clean out the state's political corruption, he can take time to put Snooki in her place and clean out its moral corruption, too.
Have a tip we should know? tips@mediaite.com