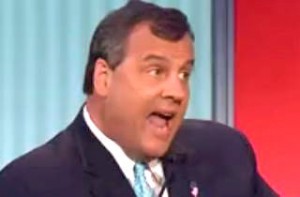 One of the highlights from last night's Republican debate was Chris Christie's sparring match with Rand Paul on the issue of balancing civil liberties with security and surveillance. Christie defended his position in part by referencing his appointment a U.S attorney just one day before 9/11.
There's a slight problem though: official records say that his appointment happened in December of 2001, almost two months after the attack.
There were at least two moments in the debate when Christie said that it was because of what he witnessed in the attack's aftermath that he stands for the surveillance measures that Paul has opposed.
"I was appointed U.S. Attorney by President George W. Bush on September 10th, 2001, and the world changed enormously the next day, and that happened in my state. This is not theoretical to me," Christie said.
The complication comes from the fact that Bush White House archives show that Christie was not an actual attorney at the time he said. This is not the first time Christie exaggerated his role at the time, even though his own biography page dates his attorney experience from 2002 to 2008.
You can watch Christie's battle with Sen. Paul here:
UPDATE – 4:54 PM E.S.T Chrisite's campaign defended his statement to NJ.com, saying that Christie did not lie during the debate, but rather, he misspoke about his position at the time. Spokeswoman Samantha Smith said that even though it was true that Bush called Christie on the 10th only to tell him of his nomination plans, he was making a point about how he reacted to what he saw.
"He was making the point that the world changed the next day, so that was the context: The point he was making was that on Sept. 10th, when he got the call (from Bush), it was a very different world than Sept. 11th," Smith said.
[h/t International Business Times]
[image via screengrab]
Have a tip we should know? [email protected]