Chris Christie 'Knows Where The Action Is,' And Talks 'Better And Louder' Than Anybody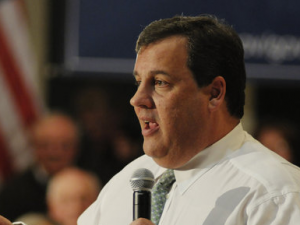 New Jersey Gov. Chris Christie has made a high-profile habit of saying he's absolutely, positively not running for president in 2012, but as home turf newspaper the Newark Star-Ledger describes in a profile on the governor, he's clearly planning a move to the national stage–and doing it very, very well. "He happens to be where the action is, and he's talking about it better and louder than everybody else," Jersey State Sen. Joseph Kyrillos tells the paper.

The Star-Ledger describes the highly professional traveling team that prepares for every one of Christie's public appearances, ensuring that his grassroots appeal is easily–and perfectly–captured by the national press and social media:
A staff of three or four arrives in a box truck packed with gear: risers for the crowd, a sound system to project Christie's already formidable voice, a music stand for his notes and, of course, giant New Jersey and American flags. Then they spend hours setting up, always leaving room for television cameras in the back. The Christie town hall is an inseparable part of the Christie brand, the backdrop for his national image and the fuel for his confrontational YouTube moments that pinball around the internet.
What's his end game? The paper notes that " veteran political operatives say Christie has taken all the right steps to ensure he's a national player," and that while he's coy about the White House, he's got something big in mind:
Politicians don't become national stars by accident, said longtime Republican consultant Pete McDonough."You have to decide to do that," he said. "You don't have an unlimited amount of time in the day. And he clearly has decided to spread the message."
Have a tip we should know? tips@mediaite.com