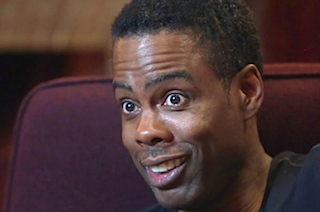 This week, The Guardian published a wide-ranging interview with Chris Rock that covered everything from Bill Cosby ("The whole thing is just sad") to Trevor Noah ("They hired the right guy") to his Top Five producer Scott Rudin, who was caught saying some racially insensitive things about President Barack Obama in the Sony hack ("Scott Rudin's not racist. Scott Rudin hates EVERYBODY").
But later in the piece, Rock weighed in for the first time in any major way on the latest protests over police violence in Baltimore. "It's not that it's gotten worse, it's just that it's part of the 24-hour news cycle," the comedian said of all the recent stories about police killing young, black men.
"What's weird is that it never happens to white kids," he continued. "There's no evidence that white youngsters are any less belligerent, you know? We can go to any Wall Street bar and they are way bigger assholes than in any other black bar. But will I see cops stop shooting black kids in my lifetime? Probably not."
Rock said he was "kinda surprised" that six officers were charged in Freddie Gray's homicide, crediting a black mayor, police chief (and state attorney) for making it happen. "But, hey, charged and convicted are different," he said, "so we'll see."
On the impact of having a black family in the White House, Rock said it affects "white people's kids" more than his own. "It's white people who have made progress," he said. "To call it black progress suggests we deserved everything that happened to us: the kids my kids grow up with won't have a hard time picturing my daughters in an executive capacity — that's progress, you know what I mean?"
And for the record, Rock is still an Obama supporter. "Oh yeah — he's been good. Great, even," he said of the president. "He wasn't going to solve America, but the country was off the rails and he was like Alec Baldwin in Glengarry Glen Ross, you know? He really sorted shit out."
Read the full profile at theguardian.com.
[Photo via screengrab]
— —
>> Follow Matt Wilstein (@TheMattWilstein) on Twitter
Have a tip we should know? tips@mediaite.com