Chris Wallace Defends MSNBC Firing Of Pat Buchanan, Calls Glenn Beck 'Irresponsible'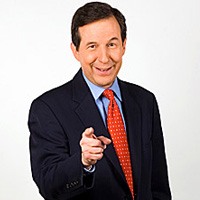 In an interview on The Mike Gallagher Show, Fox News host Chris Wallace defended MSNBC's decision to fire longtime contributor Pat Buchanan, calling the conservative pundit out for saying "some very incendiary things about Israel, about Jews, about Blacks, about other minorities," and disputing Buchanan's assertion that he was "blacklisted."
Wallace also compared Buchanan's departure to that of Glenn Beck from Fox News, calling the former Fox superstar "irresponsible."
From MMFA:
Fox News host Chris Wallace said today that recently-departed MSNBC contributor Pat Buchanan has said things "I'm not particularly fond of" and "has said some very incendiary things about Israel, about Jews, about Blacks, about other minorities." Wallace also rebutted Buchanan's claim that he was "blacklisted," saying that management has a right to fire him and groups have a right to protest his comments if they're offended.

"I'm not saying that I am particularly fond of these groups either, but, you know, you don't have a right to be on MSNBC or Fox or any of these places … [it's] the prerogative of the — of the management and a group that is offended by your comments has the right to complain about it," Wallace said on The Mike Gallagher Show. "I don't think they blacklisted him."

…"Now, I don't know that Glenn Beck was fired, but certainly, did it help his situation that he made such incendiary remarks that, you know, calling Obama a racist?" Wallace asked.

"One, I don't think it's true. Two, I don't think it's a constructive thing to say, and it's irresponsible for a guy who's on, you know, as part of a lineup and if you're going to say that kind of thing — there's plenty of things you're able to say.
I've written a number of times about my general opposition to what I call "speech firings," usually precipitated by a single incident followed by pressure from others. Wallace is absolutely right that the First Amendment doesn't guarantee you a TV show, and of course these networks have the right to determine which people fit in with their editorial standards. Beck and Buchanan, as Wallace notes, each played with fire for a very long time, and apparently wore out there respective welcomes.
Having said that, the First Amendment is more than just letter-law, especially within the realm of the news media. News organizations have a responsibility to ensure that they aren't tailoring their personnel decisions to the tiny groups with the squeakiest wheels. CNN is currently embroiled in a pair of suspension controversies. Contributor Roland Martin was suspended by the network over tweets he sent during the Super Bowl which were, at best, flavored with homophobia. Big Journalism Editor-in-Chief Dana Loesch, meanwhile, appears to be serving something of a stealth suspension following remarks she made on her radio show about urinating on the corpses of Taliban fighters.
In both of these cases, Wallace's point applies; CNN is certainly free to hire, fire, and suspend as it pleases. In my view, though, the spirit of the First Amendment would best be served by welcoming both of these contributors to CNN's air to discuss their statements with those who were offended by them. Whenever possible, the answer to speech should always be more speech, not less.
Here's the clip from The Mike Gallagher Show, via MMFA:
Have a tip we should know? tips@mediaite.com