Christie Blasts GOP And Dem Lawmakers' Sequester Debacle: 'Real Leadership Would Get This Fixed'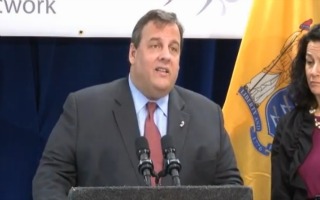 New Jersey's Republican Gov. Chris Christie tore into America's lawmakers in Washington D.C. on Monday when asked for his thoughts on the sequester fight and the resulting automatic budget cuts that started going into effect last week. "I don't have the first damn idea of what they're doing," Christie told reporters.

RELATED: GOP Rep. Explodes At CPAC: Not Inviting Chris Christie Shows They Have A 'Suicidal Death Wish'
"If the federal government cannot cut one cent out of a dollar and not bring the economy and the country to its knees, then the government is in awful shape to begin with," Christie said in a video put out by his office on Monday.
"We've done much harder things in New Jersey in much shorter periods of time," Christie said of the cuts contained within the sequester. He slammed lawmakers for attempting to make the sequester cuts as painful as possible while ignoring the nation's real debt drivers: entitlement programs.
"If anybody in this room thinks they understand Washington D.C., please come on up, stand behind the podium, and you give the answers, because I don't have the first damn idea of what they're doing down there," Christie later said.
"Real leadership would get this fixed," he added. "You get everybody in a room and you fix it. And you don't let them leave until you fix it."
Christie went on to say that calling a meeting two hours after sequester cuts kick in and having a "photo op in the driveway at the White House" would not fix the problem – a criticism of both President Barack Obama and House Speaker John Boehner's (R-OH) actions last week.
Watch the video below:
> >Follow Noah Rothman (@NoahCRothman) on Twitter
Have a tip we should know? tips@mediaite.com