What began as his fifth suspension turned permanent Monday when journo-malcontent Chuck Johnson was kicked off Twitter for threatening Ferguson activist DeRay McKesson.
Johnson made his name in last year's Mississippi GOP primary, when he offered a bounty for stories of voting fraud (that never appeared). Since then he's crash-landed into every major media story, often publishing misinformation about or flat-out threatening those involved.
Johnson has been suspended from the site several times before, largely for releasing news figures' personal information, such as the Dallas nurse who contracted ebola. Many have derided Johnson as a serial harasser and called upon Twitter to remove him from the service, his main megaphone along with his would-be news site GotNews.com
Sunday's appeared to be a tweet too far for the microblogging site, which has pledged to more effectively root out threats and harassment:
So, I woke up to this. Hate is organized in America. & yes, I take this as a serious threat. pic.twitter.com/V0zThcJJs6

— deray mckesson (@deray) May 24, 2015
Thank you, @twitter. And he's been suspended before. I am hopeful that this time it's permanent. And thanks, y'all. pic.twitter.com/3JgFLRP9gl

— deray mckesson (@deray) May 24, 2015
RELATED: New Right-Wing Blogger Trend: Smearing Dead People in the News
A few hours later Johnson's account was suspended, though many figured it would be reinstated quickly, as it had in the past. Not this time. Per his namelganger Charles Johnson at Little Green Footballs, Johnson started at least two new Twitter accounts, @citizentrolling and @freechucknow, on which he confirmed that his account was deactivated due to "participation in targeted abuse":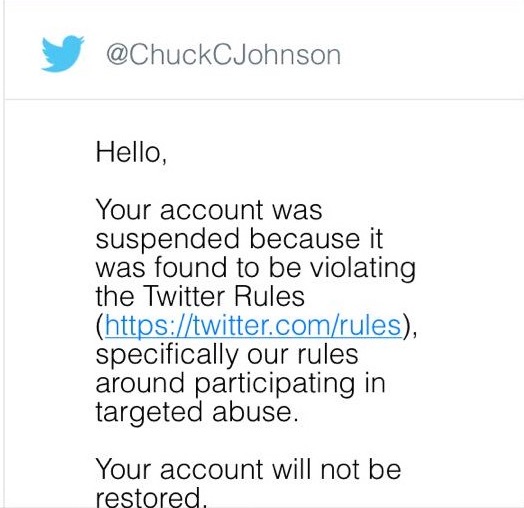 Both accounts appear to now be suspended as well.
Johnson wrote a defense on his website, in which he said he had merely been "doing research" on McKesson. "Twitter doesn't seem to have a problem with people using their service to coordinate riots," he wrote. "But they do have a problem with the kind of journalism I do."
Meanwhile Johnson's attorneys sent a letter to Twitter threatening legal action if his accounts was not immediately reinstated. The letter faults Twitter for economic damages by denying Johnson access to the social media platform. That having been said, Johnson is all bark when it comes to lawsuit threats.
[Image via screengrab]
— —
>> Follow Evan McMurry (@evanmcmurry) on Twitter
Have a tip we should know? tips@mediaite.com