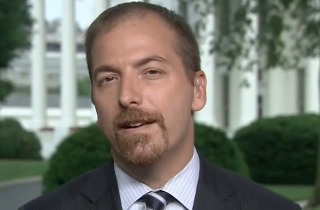 Anyone following Meet the Press host Chuck Todd on Twitter may have got an eyeful Friday morning when he inadvertently tweeted a photo of his crotch.
Todd snapped the photo to prove that he is wearing a seatbelt when broadcasting from a bus that's taking him to states with tightly contested midterm election races.
"Folks. I am wearing a seatbelt," Todd first tweeted to his concerned followers. "It blends in with my dark jacket. And I have the strap portion under my arm when I'm turned toward camera."
Todd sent out a second tweet that said, "This is why you may not see the seatbelt on cam. But rest assured. I am wearing one." Included was the photo of a seatbelt apparently strapped over Todd's lap but also a closeup view of his jean-clad crotch.
"Hey Chuck Todd, You've been hacked by Anthony Weiner," one person replied.
"Wow. Disgusting angle. Unfollow," said another.
"This seems inappropriate," said a third.
Todd declined to comment for this post on the record.
We really could go on and on. But here's the tweet.
This is why you may not see the seatbelt on cam. But rest assured. I am wearing one pic.twitter.com/ITuk4LUxsO

— Chuck Todd (@chucktodd) October 24, 2014
Hey @chucktodd You've been hacked by @anthonyweiner

— T.J. McCormack (@TJMcCormack) October 24, 2014
@chucktodd wow. Disgusting angle. Unfollow

— Neville Q (@Eels2Go) October 24, 2014
@chucktodd this seems inappropriate

— David P Gelles (@gelles) October 24, 2014
[Photo via NBC/screen grab]
— —
>> Follow Eddie Scarry (@escarry) on Twitter
Have a tip we should know? tips@mediaite.com