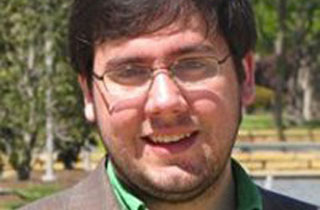 Google worker Nicholas Rotundo was arrested earlier this week for tricking a college student into sending him photos of her breasts, then using those images to extort her for more explicit photos.
Rotundo, who was formerly an Internal Technology resident at Google's Mountain View campus, posed as the coordinator of a medical "breast perception study," a research project that "involved the public's perception of different breast types" and would pay up to $8,500 for participants. He targeted one woman in particular — someone who he went to college with at the University of Texas Dallas — and eventually, after upping the offer for her participation, obtained photos of her breasts.
The Smoking Gun then reported what happened next:
Five weeks after sending the naked photos, "CC" received an ominous e-mail from a new address, widgerword@gmail.com. The sender, "John Smarting," claimed to have "stumbled across" her naked photos, images that he claimed, "I would hate for anybody else to see."

Attached to the January 26 e-mail was one of the nude images, which "Smarting" said he forwarded "for reference." Referring to a distinctive piece of jewelry seen in the photo, "Smarting" stated, "Wearing that necklace really hurt plausible deniability."

"Smarting" made an offer to "CC": In return for him not disseminating the images, she had to provide five new pictures and "1 video, at least one minute long, of you masturbating." Along with photos of "your feet" and "your ass," Smarting directed "CC" to provide "1 in-focus, high-resolution photo of your pussy, with something inserted (finger ok)." While he already had some naked photos of "CC" in hand, "Smarting" told her, "I'm gonna need you to help me fill out the set."
He also cautioned her against going to the authorities: "I cover my tracks better than that." Apparently, he didn't, and the FBI was able to trace the account back to Rotundo quite easily. (The IP address used to send the emails led back to an IP address named "Google Nick Rotundo", and was registered from Rotundo's Mountain View apartment.)
Rotundo was indicted by a federal grand jury of two counts of cyberstalking, and a third count of "computer intrusion" relating to an incident where he hacked into the webcams of two female students, who had previously asked him to fix computer issues. He faces a maximum of eleven years in prison, and will probably not get an offer letter from Google.
[h/t NYMag]
[Image via file/The Smoking Gun]
—
>> Follow Tina Nguyen (@Tina_Nguyen) on Twitter
Have a tip we should know? tips@mediaite.com