CIA Files Reveal U.S. Aided Saddam Hussein While Knowing He'd Use Chemical Weapons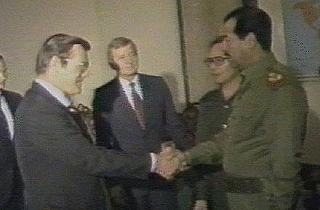 In obtaining declassified CIA documents, Foreign Policy has learned that during the 1980s, the United States military and intelligence communities knew about and did nothing to stop a series of nerve gas attacks performed by the Iraqi military against Iranians.
According to the documents, as The Iran–Iraq War began to die down, the United States military learned through satellite imaging that the Iranian military was on the verge of gaining "a major strategic advantage." As FP reports, the CIA documents show that "U.S. intelligence officials conveyed the location of the Iranian troops to Iraq, fully aware that Saddam Hussein's military would attack with chemical weapons, including sarin, a lethal nerve agent."
The information provided to the Iraqis included "imagery and maps about Iranian troop movements, as well as the locations of Iranian logistics facilities and details about Iranian air defenses."
All of this assistance was provided to Hussein despite the fact that, ultimately, "the Iraqis used mustard gas and sarin prior to four major offensives in early 1988 that relied on U.S. satellite imagery, maps, and other intelligence. These attacks helped to tilt the war in Iraq's favor and bring Iran to the negotiating table, and they ensured that the Reagan administration's long-standing policy of securing an Iraqi victory would succeed. But they were also the last in a series of chemical strikes stretching back several years that the Reagan administration knew about and didn't disclose."
Declassified documents show CIA officials predicting and confirming Iraq's use of chemical weapons as far back as 1982. As FP notes, it has previously been reported that Reagan officials provided tactical assistance to Hussein's military despite suspecting the use of chemical weapons, but these documents reveal for the first time that the U.S. military, in fact, knew all along.
[h/t Reason]
— —
>> Follow Andrew Kirell (@AndrewKirell) on Twitter
Have a tip we should know? tips@mediaite.com