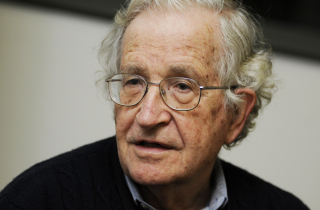 After years of outright denial, the Central Intelligence Agency has finally admitted to having gathered records on Noam Chomsky during his days as an anti-war activist in the 1970s.
Foreign Policy's "The Cable" blog obtained a government disclosure from the FBI revealing that the CIA not only snooped on the well-known linguistics professor, but also maintained a file and secretly attempted to scrub it from their archives at some point over the past few decades.
As The Cable pointed out, years worth of Freedom of Information Act (FOIA) requests to the CIA consistently returned the same denial: "We did not locate any records responsive to your request." But the breakthrough in the reporting came from a FOIA request to the FBI, which returned a memo between the two agencies confirming the existence of a CIA file on Chomsky.
The Cable described the contents therein:
Dated June 8, 1970, the memo discusses Chomsky's anti-war activities and asks the FBI for more information about an upcoming trip by anti-war activists to North Vietnam. The memo's author, a CIA official, says the trip has the "ENDORSEMENT OF NOAM CHOMSKY" and requests "ANY INFORMATION" about the people associated with the trip.
The blog then sent the document to an information-gathering expert, who asserted the evidence confirms not only the existence of a CIA file on Chomsky, but the agency's attempted tampering with the aforementioned file. "The CIA's response to the FOIA requests that it has no file on Chomsky confirms that its Chomsky file was destroyed at an unknown time," the expert said.
-RELATED: Noam Chomsky: Obama 'Running Biggest Terrorist Operation That Exists'
Government agencies are not legally able to destroy records without permission from the National Archives, and it's unclear whether the CIA complied with the law in its actions. Nevertheless, The Cable asked, "Who else's file has evaporated from Langley's archives? What other chapters of CIA history will go untold?"
As for Chomsky's thoughts on the alleged CIA file: "Some day it will be realized that systems of power typically try to extend their power in any way they can think of," he told The Cable.
Read the documents below, as posted by The Cable:
1170848-001 – 2013-04-11 – FBI – CIA response
[photo via]
— —
>> Follow Andrew Kirell (@AndrewKirell) on Twitter
Have a tip we should know? tips@mediaite.com