Clapper: Had NSA Been More 'Transparent' Post-9/11, You'd Probably Support It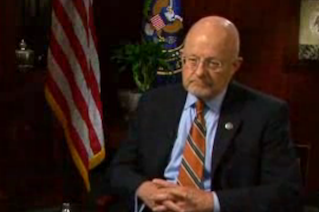 Director of National Intelligence James Clapper believes that had the government been more "transparent" about the National Security Agency's post-9/11 surveillance efforts, more Americans would be supportive of the agency's collection of phone metadata.
"I probably shouldn't say this, but I will," the spy chief said in an interview published Monday by the Daily Beast. "Had we been transparent about this from the outset right after 9/11—which is the genesis of the 215 program—and said both to the American people and to their elected representatives, we need to cover this gap, we need to make sure this never happens to us again, so here is what we are going to set up, here is how it's going to work, and why we have to do it, and here are the safeguards… We wouldn't have had the problem we had."
Clapper advanced the notion that despite Edward Snowden's leaked documents striking a blow to the government's reputation, Americans might be less skeptical of the surveillance operations had they been openly informed about them immediately after the terrorist attacks.
"[H]ad we been transparent about it and say here's one more thing we have to do as citizens for the common good, just like we have to go to airports two hours early and take our shoes off," he told the Beast, "all the other things we do for the common good, this is one more thing."
Read the full interview here.
— —
>> Follow Andrew Kirell (@AndrewKirell) on Twitter
Have a tip we should know? tips@mediaite.com