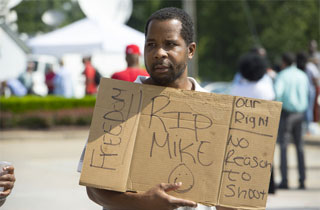 Deirdre Smith, who works with the environmental activist group 350.Org, thinks the connection between climate change and the recent unrest in Ferguson, Mo., couldn't be clearer.
In a column at the 350 website, Smith writes that it was "was not hard" for her to see the connection. "To me, the connection between militarized state violence, racism, and climate change was common-sense and intuitive" she says in her column.
Smith compared Ferguson — which has been in a state of tumult since August when an unarmed 18-year-old black man was shot dead by a white police officer — to New Orleans after Hurricane Katrina hit in 2005:
In the wake of the climate disaster that was Hurricane Katrina almost ten years ago, I saw the same images of police, pointing war-zone weapons at unarmed black people with their hands in the air. In the name of "restoring order," my family and their community were demonized as "looters" and "dangerous." When crisis hits, the underlying racism in our society comes to the surface in very clear ways. Climate change is bringing nothing if not clarity to the persistent and overlapping crises of our time.
The crux of Smith's column seems to be that areas inhabited mostly by minorities are damaged by a lack of environmental protection which then breeds poverty. "Communities of color and poor communities are hit hardest by fossil fuel extraction, as well as neglected by the state in the wake of crisis," she writes. "People of color also disproportionately live in climate-vulnerable areas."
Smith does not, however, indicate how much climate change is responsible for Ferguson's turmoil compared to the actual killing of Brown, which many in the area have viewed as race-related violence.
Mediaite requested comment from Smith for clarification.
UPDATE — 2:50 p.m. ET: Smith got back to us a few hours after this post published. She said that, no, climate change did not cause the events that unfolded this summer in Ferguson:
No. Climate change did not cause Feguson events.

Racism caused them, and the illusion of the "other" portrayed in media allowed us "mainstream unaffected" folks to accept militarized violence following the shooting. My argument is that we are not other, we are in this together and challenging racism is part of the struggle to built the economy we need to stop the climate crisis.

In climate disasters the same victim blaming militarized violence can occur and on too of that racism is something that divides us and prevents us from building the movement we need to solve the overlapping issues of oppression that help keep the climate crisis causing machine running.
[h/t NRO]
[Image via R. Gino Santa Maria / Shutterstock.com]
— —
>> Follow Eddie Scarry (@eScarry) on Twitter
Have a tip we should know? tips@mediaite.com