Clinton Campaign: By Cheering for WikiLeaks, Trump Condones 'a Crime Reminiscent of Watergate'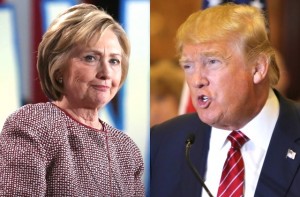 As Donald Trump continues to use attack Hillary Clinton over her campaign chairman's leaked emails, her team is comparing WikiLeaks' actions to those that led to the Watergate scandal.
Glen Caplin, a Clinton campaign spokesman, has posted an essay to Medium that puts WikiLeaks on blast for publishing John Podesta's hacked messages. Clinton and her campaign have been working to address the more troubling aspects revealed, but Caplin is going on the offensive and calling the leaks a deliberate Russian plot to interfere with the election.
"We're witnessing another effort to steal private campaign documents in order to influence an election,"Caplin wrote. "Only this time, instead of filing cabinets, it's people's emails they're breaking into…and a foreign government is behind it."
Caplin continued to point out how Trump advisor Roger Stone' affiliations with WikiLeaks, as well as another Trump staffer who allegedly met with Vladimir Putin's top men recently.
As the day went on, Caplin not only accused Trump and WikiLeaks of being allies with Russia, he got direct and said Trump is applauding the worst theft of political documents since the one that brought down Richard Nixon's presidency.
NEW: @HillaryClinton campaign calls on Trump to say "what did his campaign know and when did they know it" regarding Wikileaks releases. pic.twitter.com/bXeNdt6uPC

— ABC News Politics (@ABCPolitics) October 15, 2016
Clinton's campaign is framing the leaked emails as a foreign cybersecurity hack, while also attempting to address certain embarrassing and questionable details that the press has seized upon. Trump has made a point of invoking the hacked emails during his rallies, often using them to paint Clinton as an insider politician who gets preferential treatment from the media and the government.
[Image via screengrab]
— —
>> Follow Ken Meyer (@KenMeyer91) on Twitter
Have a tip we should know? tips@mediaite.com