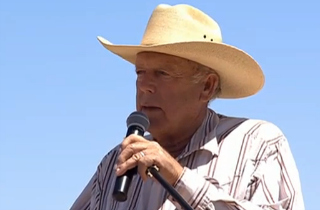 Rancher Cliven Bundy was arrested while en route to the Oregon armed standoff that has already left one armed militant dead.
Bundy was arrested in Portland's airport by the FBI on charges stemming from his own armed standoff in 2014 on a Nevada ranch. The Oregonian reports that the rancher was charged with conspiracy to interfere with a federal officer and weapons charges.
Bundy's sons Ammon and Ryan have already been arrested for their roles in the Oregon standoff. The FBI announced Thursday that the standoff was very close to being resolved and that the remaining armed protesters were ready to surrender.
UPDATE 9:05 A.M. EST As the FBI continues to tighten their grip, several reports indicate that it is likely that the remaining occupiers will turn themselves over later this morning. In a phone call streamed on YouTube that was picked up by The Oregonian, one of the four remaining members, identified as Sean Anderson, indicated that they were talking with federal officials about what would happen when he and his companions leave the refuge.
"We're not surrendering, we're turning ourselves in," Anderson thundered. "It's going against everything we believe in."
NBC also noted how Anderson indicated that he was awaiting the arrival of sympathizers like Nevada legislator Michele Fiore and evangelist Franklin Graham to help them negotiate their surrender.
UPDATE 10:45 A.M. EST Oregonian managing producer Andre Meunier tweeted out a picture of Bundy's mugshot from Multnomah County:
Multnomah County releases Cliven Bundy's booking mug after his arrest in #Portland https://t.co/wgaLZ23H1c pic.twitter.com/U0ZpMZqaux

— Andre Meunier (@AndreMeunier13) February 11, 2016
[Image via screengrab]
——
>>Follow Alex Griswold (@HashtagGriswold) on Twitter
Have a tip we should know? tips@mediaite.com