CNBC's Harwood, Rubio Battle Over Talking Point He Corrected Weeks Ago (UPDATED)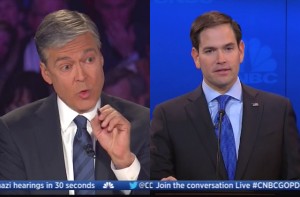 At one point during tonight's CNBC Republican debate, moderator John Harwood asked Florida Senator Marco Rubio about a line of attack that Harwood himself had to correct weeks ago.
"The Tax Foundation, which was alluded to earlier, scored your tax plan and concluded that you give nearly twice as much of a gain in after-tax income to the top 1% as to people in the middle of the income scale," Harwood said. "Since you're the champion of Americans living paycheck to paycheck, don't you have that backward?"
"No, you're wrong," Rubio said. "In fact, the largest after-tax gains is for the people at the lowest end of the tax spectrum."
"The Tax Foundation, just to be clear, they said–"
"No, you wrote a story on it, and you had to go back and correct it," Rubio cut in.
"No, I did not," Harwood said, laughing.
"No, you did," Rubio insisted.
Rubio, as it turns out, was correct in saying Harwood wrote a story along the similar lines two weeks earlier. Harwood corrected himself then, admitting that under Rubio's tax plan, the bottom 10% stood to gain twice as much  as the top 1%.
CORRECTING earlier tweet: Tax Foundation says Rubio benefits lowest 10% proportionally more (55.9) than top 1% (27.9%). Avg for all: 17.8%.

— John Harwood (@JohnJHarwood) October 14, 2015
But the question Harwood asked was slightly different this time around: he was asking about the fact that richest 1% of Americans under Rubio's plan stand to gain more than middle class Americans, not the bottom 10%. The Tax Foundation's analysis found that both statements (that Rubio's plan benefits the poorest Americans most, and that the rich stand to gain more than people in the middle of the income scale) were accurate.
UPDATE (2:17 AM ET): The original story stated that the question Harwood asked during the debates and the talking point he corrected two weeks ago were identical, and straightforwardly claimed Rubio was right as a matter of policy. As Harwood himself points out, that was incorrect, and the story has been corrected to reflect that fact.
Watch above, via CNBC.
[Image via screengrab]
——
>>Follow Alex Griswold (@HashtagGriswold) on Twitter
Have a tip we should know? tips@mediaite.com