CNN Anchor Continues Live Shot While the Naked Cowboy Hilariously Distracts in the Background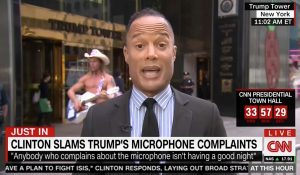 Perhaps CNN's Jason Carroll mentally prepared to go live Tuesday morning from outside Trump Tower knowing full well that the famous New York City living caricature Naked Cowboy was parading around in the back.
When Kate Bolduan and John Berman tossed to Carroll, he immediately addressed the mostly naked man in the proverbial room. "Trump Tower as you know has become somewhat of a tourist attraction. That's why we've got the uh, Naked Cowboy performing behind us."
"It's New York, you know Kate? What are you gonna do. But let's talk the debate," he said, soldiering on while the faint outline of guitar-tickling muscle pranced away in the background.
I think Carroll's report had to do with the debate and who scored points over particular talking points throughout the night, but I was distracted by the Cowboy flexing his ass cheeks so that a female passerby could snap a good picture for Facebook to remember her first trip to Manhattan ("My friends back home will never believe this.")
Also, I'm pretty sure you can detect a grin on both Bolduan and Berman's faces as Carroll begins and ends, most likely holding it in as they send their colleague to fend off the distraction alone.
Well done Jason.
Watch above via CNN, and check out the Naked Cowboy's actual rental page where for the price of only $499, the legend himself — an ordained minister — will marry you and your loved one in beautiful Times Square.
—
[image via screengrab]
Have a tip we should know? tips@mediaite.com