CNN Contributor Calls Out College Student for Anti-Semitism Over…Bacon Suit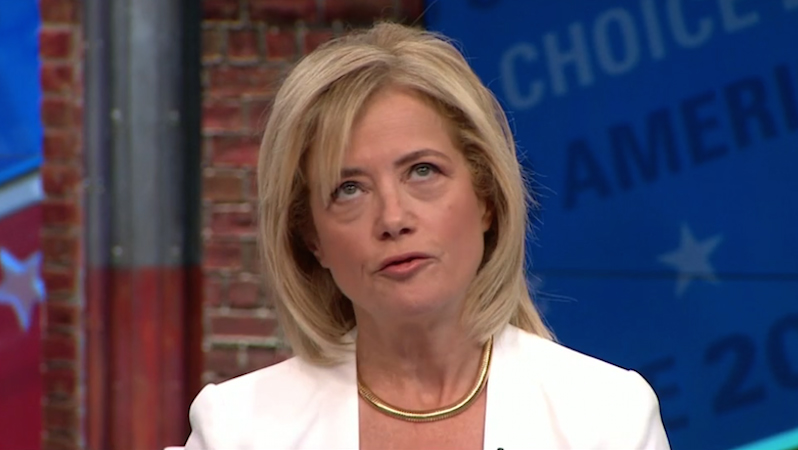 CNN contributor Hilary Rosen seemed to really step in it this weekend when she accused a random college student of being an anti-semite just because he wore a bacon-themed suit to a basketball game.
In two tweets, that have since been deleted, Rosen took the man to task for his sow-based suit.
"Look at the guy in the 'bacon suit,'" she wrote, posting a photo. "This is a Georgetown #Hoyas fans anti-Semitic smear to the Syracuse team."
After Syracuse won, she fired off another missive "Hey bacon-man. #Syracuse for the win. Bigots lose. Bye #Hoyas #Cuse."
Let's see if we can follow her logic here. She spotted the Georgetown University fan on television, during a game against rivals Syracuse University. He was indeed sporting a suit that looked like it was made out of bacon and devout Jews do not consume bacon, as an adherence to a passage in the Torah and the Old Testament bible.
Meanwhile, Syracuse has been known for employing some Jewish players and members of the coaching staff. Still, though, seems pretty thin, right?
It gets thinner. The man in the bacon suit? His name in Michael Bakan, pronounced "bacon." Wearing a bacon suit to sports games is kind of his thing.
For her part, Rosen did respond to the young man's tweet, claiming she had received some "bad info."
Awesome, u found me! Thanks for telling me. I'm new to this school rivalry and got some bad info! I apologize and took down my tweet.

— Hilary Rosen (@hilaryr) December 16, 2017
Bakan accepted the apology and actually invited her to attend a game. Perhaps this could be the beginning of a beautiful friendship? After all, the "bacon man" is all about peace and love, except toward pigs.
For the record, no hogs were harmed in the making of that suit and Rosen never extrapolated as to the nature of the "bad info" she received.
[image via screenshot]
—
Follow Lawrence Bonk (@sidescrollers) on Twitter
Have a tip we should know? tips@mediaite.com