CNN Fails to Disclose Democratic Party Ties of Questioners at Bernie Sanders Town Hall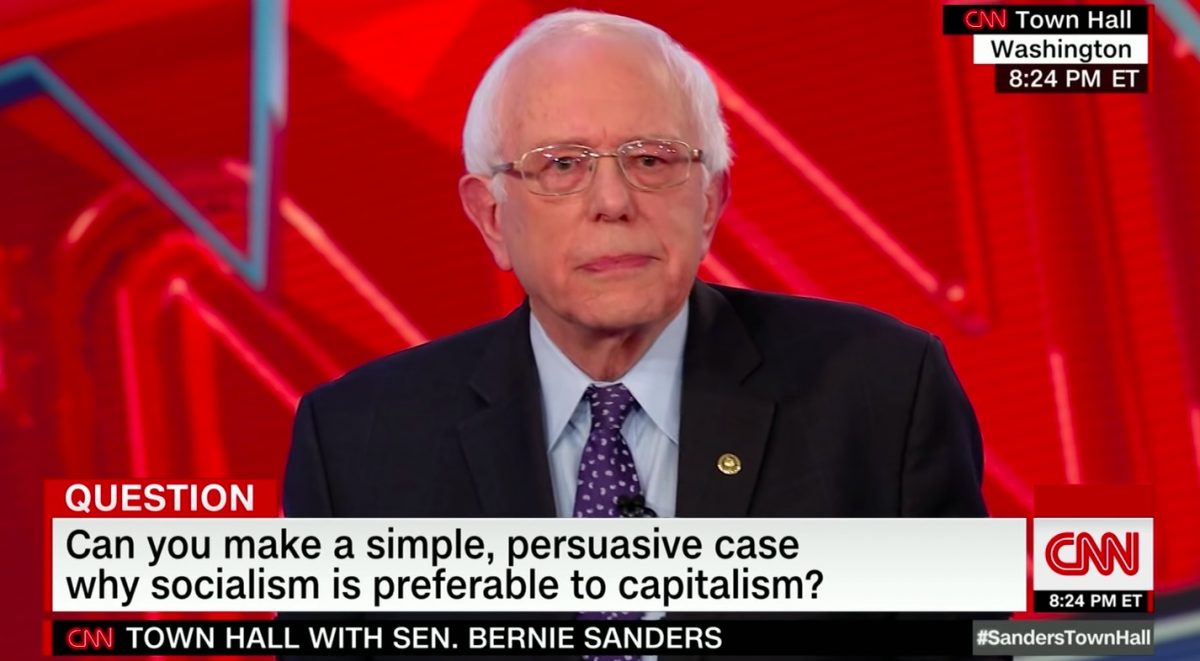 CNN failed to disclose the political connections of audience members who questioned 2020 presidential hopeful Sen. Bernie Sanders (I-VT) during his town hall on the network last night, per a report from Paste Magazine.
The leftist outlet found that CNN described Baltimore County Democratic Party Chair Tara Ebersole as a "former biology professor," Charles County Democratic Central Committee Chair Abena McAllister as "an active Democrat," a Public Policy intern at DC Cassidy and Associates — a large lobbying firm — as an "American University student," and an intern at the Katz Watson Group fundraising and consulting firm as a "George Washington student."
Sanders has been harshly criticized by leading Democrats for supposedly trying to spoil the party's primary election, given his label as an independent and perception as an outsider.
CNN did not immediately respond to Mediaite's request for comment on their failure to disclose the professional ties of these audience members.
UPDATE 02/27: A CNN spokesperson responded to Mediaite with a statement: "Though we said at the beginning of the Town Hall that the audience was made up of Democrats and Independents, we should have more fully identified any political affiliations."
The network's decision was initially found by the Twitter account @respecteconomy:
This is a Public Policy Intern at one of the biggest lobbying firms in DC Cassidy and Associates. pic.twitter.com/qNszxq6Tne

— Mike Gapes Fan Account (@respecteconomy) February 26, 2019
Numerous Twitter users took issue with CNN's chyron decisions last night, with some accusing the network of "stack[ing] the audience" against the independent senator:
if these "Town Halls" are just going to be lobbyists and consultants trying to trip Bernie up, fine, but CNN needs to say that's what it is https://t.co/m663KZuq3r

— Rob Rousseau (@robrousseau) February 26, 2019
2 things frm the @cnn Bernie town hall. 1) Dems better figure out a thoughtful answer on reparations & black-specific policies to remedy inequality. 2) Journos need to deal with their own bias around the issue. Suggesting reparations is more divisive than racial inequality = ?

— Ida Bae Wells (@nhannahjones) February 26, 2019
I watched last night's #SandersTownHall & found the Qs to be fair & substantive, then today we learned that CNN didn't disclose that some folks are political operatives.

ie: CNN called the *current* Baltimore County Dem Chair a "former biology professor." https://t.co/buUFLZLfVz

— Jacob Weindling (@Jakeweindling) February 26, 2019
Holy smokes this is crazy. What are you going to do to ensure that it's townspeople and not lobbyists in every Town Hall for every candidate, @CNN.https://t.co/2B2cqMy6YM

— Maria Bustillos (@mariabustillos) February 26, 2019
Wait, are you saying that CNN stacked the audience? https://t.co/WPvVEVutib

— ?Beth ? (@FaerieWhings) February 26, 2019
Have a tip we should know? tips@mediaite.com