CNN: FBI Gave Joran Van Der Sloot $25,000 For False Information On Natalee Holloway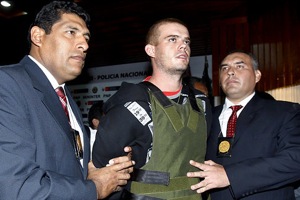 Let's see what conspiracy theory gets sewn out of this one: CNN is reporting than an FBI official has told them possible serial murderer Joran Van Der Sloot was paid thousands of dollars by the law enforcement agency to show them where the body of missing Alabama teen Natalee Holloway was being hidden in Aruba. After taking the money, Van Der Sloot admitted to lying about her whereabouts. Talk about wasteful government spending.
According to CNN's source, the money was part of an investigation into a plot to extort Holloway's mother, Beth, in exchange for information. Van der Sloot received $25,000 from the FBI to direct them towards a house where he claimed Natalee's body lay:
The FBI and U.S. Attorneys Office in Alabama arranged for a meeting where an undercover agent paid van der Sloot $10,000 in cash and another $15,000 in a wire transfer for information van der Sloot allegedly promised would lead to Holloway's body in Aruba, a source familiar with the case said. […]

Van der Sloot and Beth Holloway's representative met in Aruba, where a payment of $10,000 was made to him, followed by a transfer of $15,000 to a personal bank account in the Netherlands, the Interpol document states. In exchange, van der Sloot showed the representative a house where supposedly Holloway's remains were, according to the document. When records showed that the house wasn't even built at the time of her disappearance, van der Sloot admitted that he lied, Interpol said.
So now, if this is true (and there are Interpol documents to prove it), on top of charges of homicide in the case of two women outside US borders, van der Sloot is facing the relatively minor charge of extortion and wire fraud within our borders, for trying to extort the mother of one of his victims. That said, he still received $25,000 from a US federal agency, regarding a crime he committed outside of US borders, which he may have used to travel to Peru and commit his second murder. While chances are his experience in Peruvian jail will be much worse than anything American jails could show him, he still owes American taxpayers $25,000 at a time when our economy could really use every cent it can get, and should have to repay that, hopefully before he finished a decades-long murder sentence in South America.
Photo: New York Daily News
Have a tip we should know? tips@mediaite.com