CNN Publishes, Then Removes Story Asking, 'Do Hormones Drive Women's Votes?'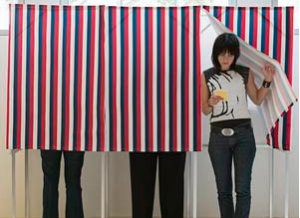 CNN caused a bit of a stir today when it published a story entitled, "Do hormones drive women's votes?" Mockery and criticism immediately ensued — until a few hours later when CNN removed the story, publishing an explanation in its place. Some elements, it said, "did not meet editorial standards."
The story pointed to "new research suggest that hormones may influence female voting choices differently, depending on whether a woman is single or in a committed relationship." That included one study that "found that women at their most fertile times of the month were less likely to be religious if they were single, and more likely to be religious if they were in committed relationships."
And then came the dissection of the supposed intersection of hormones and voting tendencies:
The researchers found that during the fertile time of the month, when levels of the hormone estrogen are high, single women appeared more likely to vote for Obama and committed women appeared more likely to vote for Romney, by a margin of at least 20%, Durante said. This seems to be the driver behind the researchers' overall observation that single women were inclined toward Obama and committed women leaned toward Romney.

Here's how Durante explains this: When women are ovulating, they "feel sexier," and therefore lean more toward liberal attitudes on abortion and marriage equality. Married women have the same hormones firing, but tend to take the opposite viewpoint on these issues, she says.

"I think they're overcompensating for the increase of the hormones motivating them to have sex with other men," she said. It's a way of convincing themselves that they're not the type to give in to such sexual urges, she said.
Unsurprisingly, this didn't go over well. Twitter reaction ranged from mocking to bluntly critical (Poynter has a good sampling), and that reaction expanded to outlets like New York Magazine, Jezebel, Salon and the Washington Post.
CNN unpublished the story, offering the following explanation:
A post previously published in this space regarding a study about how hormones may influence voting choices has been removed.

After further review it was determined that some elements of the story did not meet the editorial standards of CNN.

We thank you for your comments and feedback.
Also, author of the original post, Elizabeth Landau, took to Twitter to clarify. "For the record, I was reporting on a study to be published in a peer-reviewed journal & included skepticism. I did not conduct the study," she wrote, also noting that she "included several political scientists saying these conclusions are not valid."
(H/T Poynter)
Have a tip we should know? tips@mediaite.com