CNN's Chris Cuomo and Rudy Giuliani Spar in Epic 32-Minute Nonstop Debate Over All Things Trump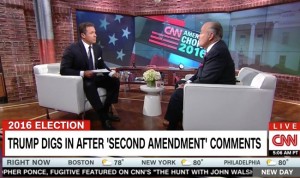 "Let's discuss the situation with former New York City Mayor Rudy Giuliani," said New Day host Chris Cuomo casually at 8:04 a.m. EST Thursday, discussing the newest wave of controversy over Donald Trump remarks.
The CNN cameras would not pull away from the interview until 8:36 a.m., 32 minutes after the start of what would be a spiraling, combative, but ultimately very respectful conversation between two brash and confident New Yorkers.
Cuomo has always posited that CNN — and its morning show New Day specifically — is the place for fair and balanced reporting, delivering all sides of a topic and welcoming a wide range of guests to weigh in on every segment. Mr. Mayor on the other hand, a fervent Trump supporter, largely used the interview to bash the mainstream media's obsession with getting tripped up on Trump's nuanced language, though he repeatedly gave Cuomo — clearly, a worthy adversary — his due respect for being, "tough, but fair."
It's hard to pinpoint that exact focus of the 32 minutes on live national television that transpired without a single commercial break. It was an exercise in cable news endurance the likes of which we just don't see in this business, and clearly Cuomo was given the green light through his IFB to continue the interview as long as necessary.
Even more entertaining is the fact that the two New Yorkers at times would spat at one another through barely-recognizable Manhattan fast talk and wild gesturing of oneupmanship.
"You're not saying [Trump] had serious intentions about second amendment people doing something bad?" Cuomo shot out at one point in reference to the newest flap to rock the Trump trail this week.
"Of course not! No more than Hilary Clinton had eight years ago when she said she was gonna stay in the race because, remember, Kennedy was assassinated," Giuliani responded. Here's a brief transcript of the exchange that reads like a Laurel and Hardy sketch:
CUOMO: You know what she did after she said that? She apologized.

GIULIANI: Well because she was wrong.

CUOMO: Why didn't he apologize?

GIULIANI: He wasn't wrong!

CUOMO: How was he not wrong? To encourage people with the second amendment —

GIULIANI: No, no. —

CUOMO: …with guns that maybe you can do something?

GIULIANI: Chris. Chris Chris Chris. He didn't encourage them to do that. It's the Clinton spin machine —

CUOMO: No!
…and it went on like this for another 28 minutes.
It's truly the cable news equivalent of the 2010 Wimbledon match between John Isner and Nicolas Mahut that went a record 11 hours and 5 minutes spanning 183 games. We've included the full interview above for your viewing, uh, let's call it pleasure — in four parts nonetheless because it requires that much space.
Watch above — and take a bathroom break at some point if you need to — via CNN.
—
J.D. Durkin (@jiveDurkey) is an editorial producer and columnist at Mediaite.
[image via screengrab]
Have a tip we should know? tips@mediaite.com