CNN's Dana Loesch To Mediaite's Frances Martel On Webcast: 'You Are A B*tch!'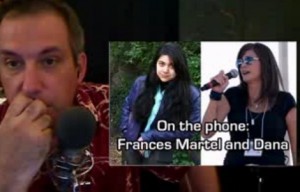 Conservative CNN contributor Dana Loesch and Mediaite's own Frances Martel, a self-described Libertarian, got into a Mother's Day fracas that demonstrates how somewhat below-the-radar new media can trump their dinosaur forebears, at least in entertainment value. They appeared on Breitbart TV Editor in Chief Larry O'Connor's Stage Right webcast to debate Loesch's rather banal Mother's Day post at Big Journalism, and the sparks flew quickly. Martel told Loesch (who had prefaced her appearance by saying she'd had four margaritas), "You're a little bit drunk," and Loesch dutifully responded, calling Martel a "bitch." Why? Because, as Loesch explained to Martel, "You are a bitch."
The subject of the webcast spat centered around Loesch's Mother's Day post, in which she hypothesizes that many mothers have become politically active of late because motherhood is, in and of itself, political. Loesch echoed the fears of many conservatives who see the current political landscape as "a threat to the well-being of their children."
Martel took exception on Twitter:
As a woman who chose to study politics instead of procreating for a living (?), I'm very offended by this mentality
Martel took exception to the notion that motherhood, in and of itself, somehow confers superior political acumen. Although Loesch's piece doesn't explicitly say this, it is a thematic interpretation that Loesch saw fit to defend later.
After some sharp back-and-forth with Loesch and Stage Right producer Meredith Dake, Martel accepted an invitation to do the show (disclosure – this was at midnight when this Managing Editor — and father of two — who normally approves such appearance was fast asleep).
You're probably not going to catch an exchange like this on CNN, and it's only a taste of an at times riveting, and often rambling and unmoderated, hour or so of unvarnished debate: (you can listen to the entire show here.) The two battled over political indoctrination, education, and definitions of communism. While her detractors probably thought that, at times, it felt as though Martel was using her political science degree as a cudgel, her more persuasive explanation for why she would certainly know the definition of communism was that her parents immigrated from Cuba. Unfortunately, this was drowned in a sea of unpleasantries between the battling warriors, though its worth noting that Loesch called Martel a "communist elitist."
The most inflammatory exchange, however, occurred shortly after Martel joined the podcast, after Loesch had reset her opinion on the politics of motherhood.
Listen to that excerpt below:
Part of the magic of Twitter is the informal, unrehearsed nature of the medium, and the same can be said of the late-night webcast. And it is fair to say that this exchange was unrehearsed and yes, perhaps even too informal. For Martel's part, she was using hyperbole in claiming that mothers who stay at home are "second class citizens," but as she explains later in the full podcast, she was using Loesch's term to make a political point.
However, Loesch took great offense at Martel's criticism, arguing that she has no room to criticize anything related to motherhood, because Martel is not a mother. Apart from the substantive issues of their debate, by this logic the only person qualified to criticize an elected official is someone who has held elected office. For that matter, it is akin to claiming that one cannot talk about drug policy unless he or she has significant experience doing drugs.
The premise of the debate (and what seems to be the misunderstanding between the debate's participants) is not really the point. One should be expected to engage in a spirited discourse over political differences without ad hominem attacks. Dana Loesch is a contributor to CNN, yet she revealed at the outset of her debate that she'd had four margaritas before calling Martel a bitch. Would other networks allow their contributors to engage in this sort of public discourse?
When reached, a CNN spokesperson told Mediaite "CNN has always been a news organization committed to having political analysts and commentators from across the entire political spectrum. Dana is a 'CNN Contributor' and the network doesn't endorse her political viewpoint — or other contributor viewpoints and ideas."
But this isn't about her political viewpoint. This is about calling someone a bitch on the radio.
When asked if she had any regret about using that term, a defiant Loesch told Mediaite "Not really," later adding "especially since I'm sure (you) didn't ask your staffer if she regrets calling stay-at-home-mothers 'second-class citizens,' 'unAmerican' and 'looters' on Mother's Day, or the ad hominem, shouting, etc. which kicked off the podcast."
Martel tells us:
I clarify in the clip several times that 'looters' was an Ayn Rand joke that clearly went over her head. I stand fully by "unAmerican." The dignity of free labor is at the core of American values and participation in the free market is what keeps the country thriving. I'm pretty sure it comes from Weber's Protestant ethic, though it cuts through all religions nowadays, and is mentioned in de Tocqueville's Democracy in America. Anyway, to willfully abstain from participating in the free market, to me, is unAmerican, though this may be a position that only those either having lived in non-capitalist systems or barely slipping away from non-capitalist systems may take.

I never called her a bitch and I regret trying to sound conciliatory towards the end of the broadcast. Obviously this is a person too proud of her ignorance to understand bridge-building in any capacity. Then again, she has called me a "communist" several times without apology, which is actually a far worst insult than "bitch," and has yet to explain herself.

I'm proud of what I did because Dana is an ignorant, belligerent bully and people seem to fear calling her out on her bullshit because people are afraid of kicking the hornet's nest! She has absolutely nothing to work with other than being loud and apparently this is enough for no one reasonable to say "hey America, maybe we don't want the dumbest and most ill-faithed among us to have a platform?"

It makes me kind of disappointed in our media, frankly.
Ouch.
In the end, Dana Loesch is not just a proud mother, but asserts that her status of motherhood gives her a level political expertise. That may, or may not, be true. But one wonders if she would be so proud to share her calling of Martel a "bitch" with her children, now or ever. Which gets to the real issue of the debate between Loesch and Martel. Is one's own ignorance something one should wear proudly as a badge of honor?
Martel thinks not, and on that point, I happen to agree.
Have a tip we should know? tips@mediaite.com