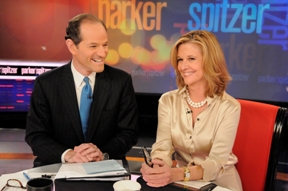 Eliot Spitzer is ready to begin his new role. The former New York governor transitions to cable news host tonight at 8pmET on CNN, paired with conservative columnist Kathleen Parker for Parker Spitzer – Obama administration special adviser Elizabeth Warren is a guest tonight.
We talked to Spitzer Friday about the recent change in management, the critics who hope the show fails and more.
Mediaite: How has your final week of rehearsals gone?
Spitzer: We're just excited and can't wait to get going. We've had loads of fun doing rehearsals, but as anything in life, the rehearsal is just a rehearsal and not the real deal. We just want to get on the air and have conversations with great guests…Neither one of us likes to be scripted. We'll be spontaneous, and react, go back and forth, grab the moment. Neither one of us likes the teleprompter much. We'd rather just have fun and chat.
Mediaite: What sort of guests can viewers expect? Politicians?
Spitzer: It's inevitable in the weeks leading up to the midterms that there will be a lot of chatter about politics. We'll have elected officials, some pundits who are in that universe. But we like to say we're not having pundits, we're having experts. It may be a thin distinction, but we want people who are not burned out, ubiquitous on camera, whose commentary is predictable. We have some interesting people and I think we'll entertain as well.
Mediaite: Talk about the switch, a week before the launch, in management. Was the show affected at all?
Spitzer: Not at all. This show has the confidence of the new leadership, had the confidence of former leadership – it had nothing but absolute support from across the board from the very first moment. I knew Ken Jautz well before he stepped into the new position, and had a great time working with him. Jon [Klein] become a great friend in a very short period of time as well. We're all grown-ups. You keep working, like members of a baseball team when a new manager comes in.
Mediaite: How do you deal with the sort of preemptive strikes that have been written. Jon Friedman at Marketwatch hoping the show fails…
Spitzer: Who?
Mediaite: Jon Friedman, the TV critic there.
Spitzer: I hate to say it – I wish him my best, but I've never heard of him.
Mediaite: In the Atlanta Journal-Constitution there was this column mentioning CNN's "sleaze factor" also.
Spitzer: I mostly ignore the media stuff. I always have and probably always will. [Referencing Friedman and Marketwatch] I suggest if these wise critics spent less time worrying about stuff like that, and more time worrying about the financial markets, maybe stuff would have turned out differently in our world.
>>> NEXT PAGE: Spitzer on ratings, Twitter, the "Couric question"…
Have a tip we should know? [email protected]