CNN's Marciano On BP: "Even The Image Of Them Possibly Hiding Something Was Not Good PR"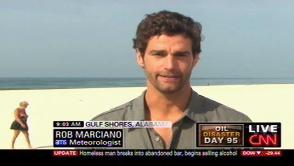 CNN's Rob Marciano has been in four different states since the BP oil disaster began just over 100 days ago.
We talked to Marciano today about BP's lack of communication, his recent CNN special about environmental and wildlife Gulf storylines and more.
You can hear the full BlogTalkRadio interview below, which took place this afternoon. It is the fourth in our series, "Live From The Gulf", in which we talk to reporters and anchors who have covered the oil disaster over these past 100 days. (Listen to last month's "Live From The Spill" podcast series.)
Here are a couple key exchanges from Marciano, with the full interview after:
(9:08) Mediaite: I'm curious as you've covered this story through a couple months now how the communication has improved between BP and the press.
Marciano: It's improved. I wouldn't say it's great but it's definitely improved. They saw that even the image of them possibly hiding something was not good PR. I think that everybody thinks, and it's just common sense to think, if they were hoping it wasn't going to be as bad as it is this may go away more quickly. But it was worse than everyone thought.
(13:45) Mediaite: It does seem CNN has really remained on this story. What do you think of the organization and the resources they've put into this coverage?
Marciano: I'm so proud of CNN and the way we've tackled this story. The higher-ups, the decision they made early on to give everybody the resources and force everybody's hand and redirect our attention from other things onto this…CNN made the decision early on to go get it, and I'm proud of the managers who made the decision proud of work of photojournalists, and producers, and reporters who are down there making it happen.
Check out the full interview here, including Marciano's initial thoughts when he was deployed to the Gulf in May:

—–
» Follow Steve Krakauer on Twitter
Have a tip we should know? tips@mediaite.com