Andrew Breitbart's Olive Branch To Shirley Sherrod: He'd Like To Meet 'In Private'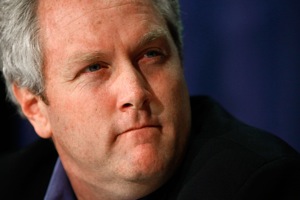 Could our two-week-long national nightmare be nearing an end? In an interview with Newsweek today, Andrew Breitbart spoke to the magazine about the Shirley Sherrod speech scandal and expressed regret, acknowledged that it has "been difficult for me as well," and claimed he would "be more than happy to meet with [Sherrod] in private" to settle the matter.
The interview is significantly less aggressive than Breitbart's initial appearances when the scandal broke in which he repeatedly defended himself by nothing that he was not the one that made the decision to fire Sherrod and that he "could care less about" her. While he refused to apologize in Newsweek before meeting with Sherrod personally, he noted that his initial motivation to post the video– to highlight "that there's consistency here in the Democratic Party to strategically issue the race card"– was "absolutely pure" and that he regretted that Sherrod's individual story had overtaken the narrative. He also noted that "if I could do it all over again, I should have waited for the full video to get to me" and, while he noted that it would be "easy" to blame everything on him, he argued that "I don't think anybody looks particularly good in this thing"– all a far cry from wondering aloud whether the farmers interviewed by CNN were the actual protagonists of Sherrod's story when talking to John King.
Sherrod has not exactly taken the attacks sitting down. She has called for Big Government to be shut down and is planning a lawsuit against Breitbart for posting the video. While he refused to comment on the lawsuit, he did extend to Sherrod a peaceful proposition: "I'd be more than happy to meet with her in private and have a discussion with her." But what would Breitbart have to say after the whole ordeal:
"I'd have a long discussion with her and I'd tell her that I'm not one of these people in this country that thinks racism doesn't exist. And that I'm not one of these people who says that she hasn't suffered from racism. And that the scars of her racism aren't warranted. But I'd also tell her that my passion in life and my political trajectory from left to right was born from watching the Clarence Thomas hearings. I didn't understand how he NAACP sat on its hands while privileged white gentlemen hammered him mercilessly and humiliated him and the media and the NAACP allowed for it to happen."
Sherrod, as mentioned before, is not particularly happy with Breitbart, but his move to invite her to a private chat leaves the ball in Sherrod's court and, in contrast to Sherrod's accusations that Breitbart supports slavery, makes Breitbart appear the victim of Sherrod's demonization, with the burden on her end to prove his malicious intent. If the Breitbart/Sherrod Meeting of the Minds does end up happening, let's just hope they serve beer.
Have a tip we should know? tips@mediaite.com