CNN's Stelter on Tantaros Lawsuit: 'Tremendous Amount of Skepticism Within Fox News'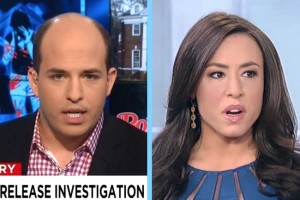 Late Monday night, former network host Andrea Tantaros became the latest Fox News talent to allege harassment at the hands of former Chairman and CEO Roger Ailes, filing a lawsuit in response to what she called the, "sex-fueled, Playboy Mansion-like cult" at the network.
Her lawsuit comes seven weeks after Gretchen Carlson's sexual harassment lawsuit was first filed against Ailes.
Tantaros alleged that top network executives retaliated against her for complaining about Ailes, and that she was told by Bill Shine (the new Fox News co-president since Ailes' ouster), "'Roger is a very powerful man,' and that she 'should not fight this.'"
But as CNN's Brian Stelter reveals in his newest edition of the Reliable Sources newsletter, a lot of people at 1211 Avenue of the Americas have questions about Tantaros' claims. "There is, to be blunt, a tremendous amount of skepticism inside Fox News about these charges," Stelter writes. Sources with whom Mediaite has spoken both in and out of Fox have echoed those sorts of questions about Tantaros' allegations.
Adding to the credibility concerns is the fact that Stelter also reveals that Tantaros' lawyer — Judd Burstein — apologized to him personally after a "glaring inaccurac[y]" in the lawsuit.
The lawsuit supported its claim that Fox News was "repeatedly crafting and placing insulting stories about Tantaros" by pointing to one such example: the website TVNewser. The Tantaros lawsuit on page 12 reads, "…it is common knowledge within the industry that TVNewser was created and controlled by Ailes."
However, as Stelter was quick to point out, Stelter himself created the site in 2004. Stelter writes:
Other editors took over in 2007. The site has never been "controlled by Ailes." Tonight Burstein apologized to me for the "creation" reference. "My understanding, though, is that you left in 2007, and I stand by my allegations concerning TVNewser during the period since Andrea joined Fox. We intend to subpoena Chris Ariens's emails to prove the truth of our claim."
Even current TVNewser editor Chris Ariens clarified yesterday, "Former Fox News host Andrea Tantaros makes some pretty fantastic, and wrong, claims about TVNewser in her lawsuit against Fox News." Ariens continues:
As the late, great John McLaughlin would say. WRONG! Fox News has never controlled this site.
Tantaros is the latest in a growing list of women who have alleged harassment, as attorneys indicate that as many as 20 women have stepped forward. "The messages are still coming in," said one member of Gretchen Carlson's legal team. But, of course, each case will have to be evaluated separately.
—
[images via CNN and Fox News grabs]
J.D. Durkin (@jiveDurkey) is an editorial producer and columnist at Mediaite.
Have a tip we should know? tips@mediaite.com