'Coincidence?': Twitter Finds Parallels Between Game of Thrones and #HillarysBigAnnouncement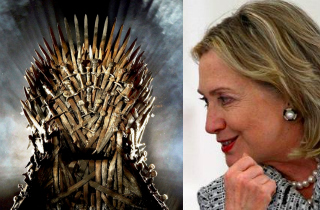 Hillary Clinton's campaign apparatus has let it be known that she will make her official 2016 announcement via social media this Sunday, April 12. The American people have been looking forward to this day with great anticipation long before the inevitable Democratic frontrunner set her sights upon it. For this Sunday is also the day that season five of Game of Thrones premieres on HBO.
This confluence was not lost on those who talk politics and television on Twitter, with people quickly drawing parallels between the two events — and hoping Clinton does not somehow overshadow a day that was supposed to be all about Game of Thrones.
Below are the highlights:
So, news reports say Hillary Clinton will announce her candidacy on Sunday, which is when Game of Thrones premieres. Coincidence?

— Robin Riegelhaupt (@reviewingdrama) April 10, 2015
Hillary Clinton will announce her bid to become President on the day "Game Of Thrones" returns. #WellPlayed

— Jay (@J9480) April 10, 2015
So, Sunday: Hillary announces candidacy from a video on an Apple Watch worn by a new character on Game of Thrones. Right?

— Fusion (@ThisIsFusion) April 10, 2015
All I know is Hillary better not announce during @GameOfThrones.

— Marc Fortier (@MarcNECN) April 10, 2015
IS HILLARY CLINTON ANNOUNCING HER CANDIDACY IN THE GAME OF THRONES PREMIERE?!?!?!

— Matt (@soundssosoulful) April 10, 2015
Hillary at Noon feels like either a Sergio Leone reboot or a Game of Thrones at 9PM teaser.

— Todd Zwillich (@toddzwillich) April 10, 2015
hillary picked the wrong sunday to announce her run for president..unless she opens with "previously, on game of thrones.."

— sd (@stothedeezy) April 10, 2015
Hillary's announcement is the same day as the start of the new season of #GameOfThrones. Looks like she's making a play for the Iron Throne.

— Nick Butler (@nickbutler) April 10, 2015
Hillary announcing on Sunday conflicts with my desire to watch Game of Thrones episodes all day. My life is pretty hard.

— Chris Cillizza (@TheFix) April 10, 2015
Hillary Clinton launching bid on same day Game of Thrones returns. Coincidence? The Clintons of Westchester. #WinterIsComing but for whom?

— Chuck Todd (@chucktodd) April 10, 2015
So, Hillary Clinton will announce her candidacy on @twitter the same day that @GameOfThrones returns to television. #outoftouch

— Rep. Dave Ober (@DaveOber) April 10, 2015
Hillary Clinton making big announcement noon Sunday. Hodor also making an announcement 9pm Sunday. Pretty sure I know what they both are.

— pourmecoffee (@pourmecoffee) April 10, 2015
[Photo via HBO/State.gov]
— —
>> Follow Matt Wilstein (@TheMattWilstein) on Twitter
Have a tip we should know? tips@mediaite.com