Colbert Belatedly Gives NPR Staffer The Medal Of Fear She Rightfully Deserves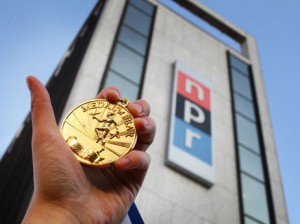 You may recall that at the Rally to Restore Sanity and/or Fear, both Jon Stewart and Stephen Colbert awarded various people with medals—either for demonstrating extreme reasonableness or for helping to keep fear alive. One of the latter medals was given to news organizations like NPR and New York Times, which prohibited their employees from attending the rally because they viewed it as an overtly political event. Because nobody from those organizations was ostensibly at the rally (though there were, in fact, NPR and New York Times journalists covering the event on the ground), Colbert ended up giving the medal to a random seven-year-old girl. But now, after 20 medal-less days, a brave NPR staffer has finally obtained the award and brought it home to her company's headquarters in Washington, D.C.
NPR's Linda Holmes recounts the saga on her Monkey See blog:
When NPR Digital producer Melisa Goh went to a recent taping of The Colbert Report while in New York on vacation, she may not have realized she was on a very important mission. But then, during the two-hour wait outside the building before the show, a troubling situation preoccupied her: "I spent my two hours thinking about a certain 7-year-old girl who had something that didn't belong to her," Mel says.

… Mel found herself at the pre-show Q&A, in which members of the audience get to ask Colbert questions. When called on, Mel felt it was her duty to persuade Colbert to turn over the Medal Of Fear that was rightfully ours.

So when her moment came, Mel straightforwardly made her request: "I work at NPR in Washington, D.C. I want the medal."

Colbert told her that he did indeed have our loot on hand. Better yet, he was willing to award it to Mel as our representative. So after a break while the medal was apparently retrieved from its deeply buried, highly secure vault, she took the stairs down to the stage.

…Once she was face to face with the man himself, as Mel remembers it, Colbert said something along the lines of, "For fear that attending my rally would make your organization seem biased — and just a little bit liberal — I award you this Medal of Fear." And he put it around her neck.
Victory is theirs! For the record, the medal is apparently really made out of metal. It features a picture of a naked man running with scissors, as well as a Latin inscription that translates to 'Warning: Cadmium May Be Present.' Obviously. Maybe Vivian Schiller could let George Soros pose with the medal the next time he drops by the NPR building; we have a feeling Glenn Beck would love that.
[h/t NPR Tumblr]
Have a tip we should know? tips@mediaite.com