Comedian Attends Comedy Central Roast Dressed As Joe Paterno Flanked By Boys In Gym Towels
Comedian Attends Roast Dressed As Joe Paterno, Flanked By Boys In Gym Towels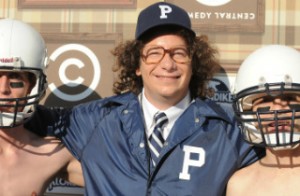 This year's Comedy Central roast of Roseanne Barr is sure to generate outrage less than a week before its airing. Why? Because perennial roaster and wearer of strange outfits Jeffrey Ross reportedly showed up to the Saturday taping of the show dressed as the late Penn State football coach Joe Paterno, accompanied by topless men wearing football helmets and gym towels.
Too soon? Not according to Ross.
The Huffington Post reports that the gag was met with a mix of gasps and laughter from the red carpet reporters and photographers, but Ross said that his mission was to stand up for his fellow comedians.
He explained that the "P" on his jacket stood for "People who can take a joke," delivering the punch line that "If they're offended by what they see, they can do what Joe Paterno did – look the other way."
During his actual roast of Barr, Ross reiterated the sentiments behind his decision to don the Paterno garb:
Roseanne, I'll always love you for saying whatever you want, for never holding back. And in these alarming times when comedians are second-guessing their imaginations and sometimes even apologizing for jokes, I consider you a hero and a martyr and a friend … Now I'm gonna take Seth Green and hit the showers!
This is not the first story deemed "controversial" from the pre-taped roast. Comedian and "Roast Master" Jane Lynch began the show by shouting "Fuck Chick-fil-A."
The show will air Sunday, August 12 at 10 p.m. ET.
(h/t HuffPo)
— —
>> Follow Andrew Kirell (@AndrewKirell) on Twitter
Have a tip we should know? tips@mediaite.com