'Compulsive? I Had to Be': NBC Reporter Pens Firsthand Account of Covering Trump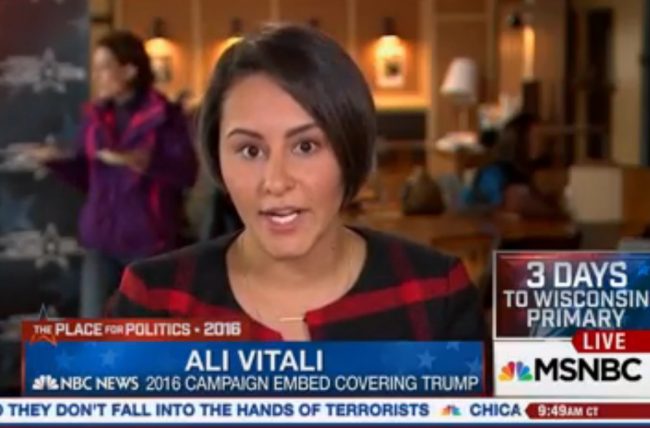 NBC's Ali Vitali gave the public a glimpse into a political reporter's life today.
This morning, her piece, "My 100 Days of Covering President Donald Trump," came out. The title is slightly misleading, though. She herself admitted that when you count all of the days she served as an "embed" on the campaign trail, she's been following Trump for over 600 days.
During the campaign, that meant setting alarms for 5:00 a.m. just to make sure she never missed a tweet.
"Compulsive?" she wrote. "I had to be."
She explained that what had seemed like a temporary gig following a long-shot candidate around until he dropped out turned into daily press briefings at the White House. In that way, her story is similar to the one told by colleague Katy Tur in a similar tell-all about campaign reporting life.
Also like Tur, Vitali had to mention the animosity toward the press that was a staple of Trump's campaign and is still a staple of his presidency. She said this:
Everyone knows it hasn't been a laugh riot for the media covering this president. Not only does he make news more than anyone in recent memory, but he's continued his attacks on the press as "fake news."

For me? The sting's gone out of it a bit. Head down, work to do. I've moved on. For sure, it's easier to handle now than it was during the campaign, when those same anti-media grenades were lobbed from a podium and into a sea of thousands of cheering Trump fans, excited for the chance to boo the press.

I'm a baseball fan from New York, so I think of it like how the Yankees must feel when they're playing in Fenway Park. It's a small distraction, at most. The fans enjoy the razzing; the players learn not to be fazed by it.

Bottom line: The shock value of Trump's anti-media campaign has worn off.
The attacks on the press have certainly not stopped, but as Vitali showed, reporters have ultimately had to shake it off in pursuit of the truth. And the tweets. In Trump's America, they're always in pursuit of the tweets.
[image: screengrab]
Have a tip we should know? tips@mediaite.com